The new folding boxboard Atelier from Sappi has been developed under the precept "brilliance meets function". Just how convincing and multifaceted this white back folding box board (GC 1) is when it comes to fulfilling this promise, is demonstrated by the brand new Swatch Book that supports this fascinating substrate.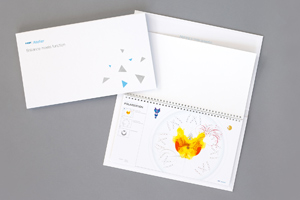 The elaborately designed, printed piece makes Atelier's high stiffness and volume, impressive surface finish and unique 100 percent whiteness come alive to the eye and touch. Its various motifs and beautiful refinements make leafing through the Swatch Book a truly rewarding experience. Atelier from Sappi, available in weights from 240 to 350 g/m² and with its outstanding characteristics, offers countless possibilities for all users and industries.
Convince yourself of Atelier's advantages! Order your free personal copy of the Atelier Swatch Book now!
Order your Atelier Swatch Book or sample sheets now
Further information is available on our website.