Paperboard Atelier from Sappi offers endless opportunities – for any premium application
For powerful marketing that actively boosts sales and elevates consumer appeal, more and more manufacturers are developing packaging designs which interact with all senses of their targeted audience. Turkish packaging specialist PrintPark relies on the unique characteristics of Atelier, Sappi's newly developed folding box board 1, to communicate the brand values of premium products in order to achieve highest possible attraction at the point of sale.
The effect of packaging
In general, consumers make up their minds within only a fraction of a few seconds as to whether they are interested in a product or not. Look and feel, functionality and the overall value perception are key: these attributes are the core elements in packaging when – after the first visual impression – consumers "sense of truth" comes into play at the point of sale – especially in the premium sector where packaging material standards and expectations are sky-high. Once overcoming the already high hurdle of being visually recognized by consumers, it is the rigidity of paperboard in terms of strength, bulk and stability which immediately translates into the value of the packed content. High brightness of the paperboard does not only create the ideal base for precise images and colour reproduction, but equally – like in photography – allows to set the right "temperature in imaging", maximizing precision in setting the stage to communicate on core brand values and thus obtaining the desired consumer perception. Needless to say that on top of it all the paperboard shall also allow for a multitude of sophisticated finishing techniques to be processed without any difficulties.
Premium paperboard for premium products
An example of premium packaging that exhibits all of these virtues is the stylishly finished folding box of the women's fragrance Paradise by Flormar. To convey the exclusive brand message of the perfume, the Turkish cosmetics company chose to work with the packaging manufacturer PrintPark. Sappi's high-bright Folding Box Board 1, Atelier, was the choice of PrintPark for this project and the result is a feast to the eyes: a playful, yet stylish packaging that promises an exclusive product experience in terms of look and feel.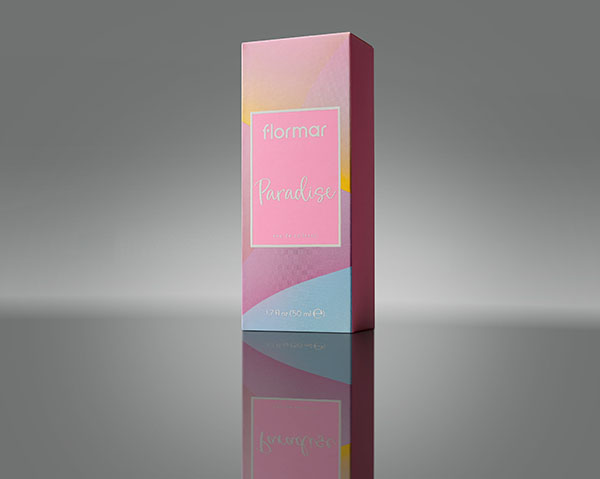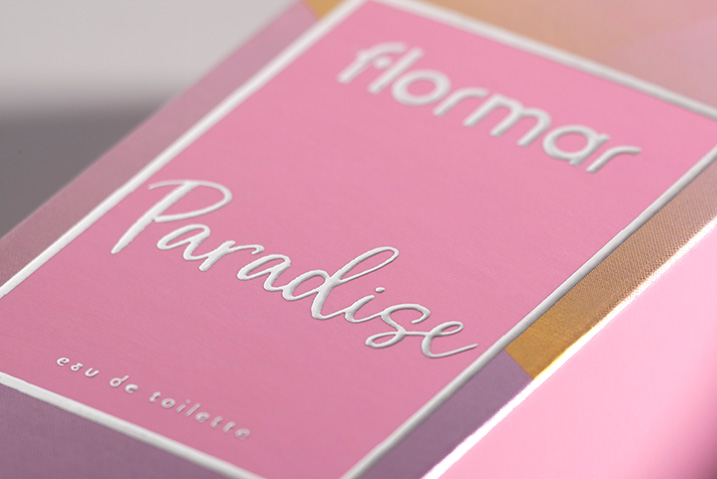 One of the biggest challenges was to select the right packaging material base. The virgin fibre FBB1 Atelier from Sappi meets all of the specified standards in terms of brightness, rigidity and finishing options. Mr. Ferit Dansık, Owner and Managing Director of PrintPark, explains: 'If I have a product whose packaging needs to convey a sense of luxury, I would certainly recommend Atelier from Sappi, as it has a smooth surface and silky feel in addition to high brightness, and it is suitable for all kinds of demanding printing and finishing techniques.' The digital varnish contrasts perfectly with the delicate pastel shades of the packaging. The box perfectly reflects the brand's claim of offering the highest quality.
Optimum processing properties
Mr. Dansık's choice for Turkish chocolate manufacturer Benuta was, again, Atelier. PrintPark sought a functional paperboard with an understated yet stylish appeal for their premium chocolate packaging project. When asked why PrintPark chose Atelier from Sappi as the packaging material, Mr. Dansık promptly explains: 'Quite simply because it offers the qualities of a premium virgin fibre paperboard that is suitable for complex finishes. For digital varnish, we seek a very smooth, even and consistent surface to have the best possible effect.'
The rich burgundy hues, the golden foil finish and the silky feel give the box of chocolates the sense of a luxury item, creating the desired perception of a 'Perfect Gift". The virgin fibre paperboard from Sappi is also safe for use in direct contact without compromising the precious chocolates in their taste or aroma.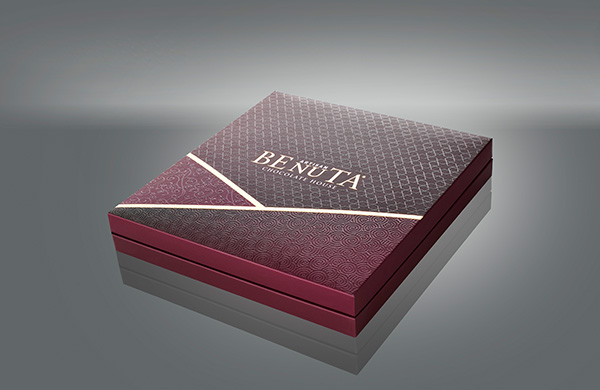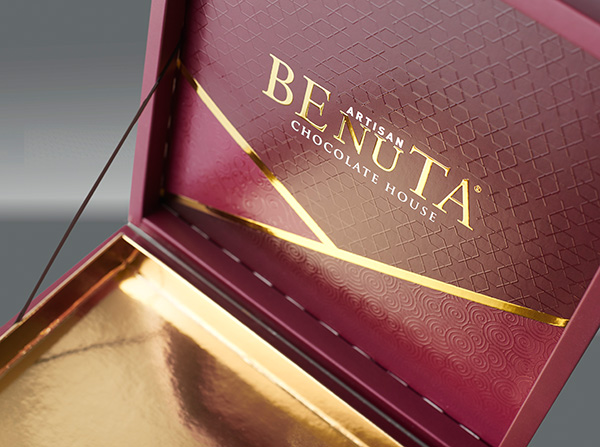 About Atelier from Sappi
Atelier folding boxboard 1 is available in sheets and reels with a range of grammages between 220 to 350 g/m². It is suitable for direct contact with food products and available with FSC/PEFC certification. Atelier is geared towards premium packaging applications in multiple market sectors, such as cosmetics and perfumes, OTC and pharma, chocolate & confectionery, food packaging, electronics, graphic applications and many more.
About PrintPark
PrintPark is a manufacturer of premium folding cartons. The company, founded in 1974, provides high-end packaging products for the Beauty, Cosmetics, Pharma, Chocolate & Confectionery, Wine & Spirits as well as Fashion and General Food industries. The production and processes of the company, based in Istanbul, meet highest international quality standards, serving both domestic and export markets to more than 25 countries.
Supporting a variety of industries with excellence in packaging solutions, PrintPark offers a wide range of modern printing and converting options pared with multiple techniques in finishing to its wide customer base, creating a unique positioning for themselves as "the pioneer of applied innovations in packaging" both within Turkey and international markets.
PrintPark is a member of Global Packaging Alliance (GPA) and proud winner of the renown "Carton of the Year" award at the 2019 Carton Excellence Awards.