Sappi with Atelier and expanded Algro Design line at the FachPack 2019
The motto of this year's trade fair is 'Sustainable Packaging' and Sappi is raising the bar yet again.
Ecological packaging has become something of a mega trend in the global packaging industry. Having said that, Sappi has been pioneering innovative and sustainable packaging solutions for years. The internationally active company is presenting its latest innovations at the FachPack in Nuremberg from 24 to 26 September 2019. Alongside its Algro Design product family – which has already received an excellent reception – the company is unveiling its newly launched Atelier folding box board at the Sappi stand 9-260. Both paperboards impress with high brightness and a silky-matte feel. Sappi is also presenting its heat-sealable paper Sappi Seal, which is fully recyclable and can offer an exciting alternative to existing PE-coated packaging.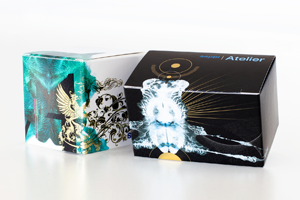 Sappi's premium paperboards – made from renewable raw materials – also measure up to the criteria of sustainability and recyclability and therefore fit in perfectly with this year's trade fair theme. Among the highlights at the Sappi stand is Atelier, the new white backed folding box board, developed under the 'brilliance meets function' motto. What makes this GC1 paperboard so special is its combination of visual and physical features. Atelier combines high volume with high rigidity and high surface quality with unique 100 percent whiteness. The material comes in a range from 220 to 350 grams per square metre.  
For premium performance at the point of sale
'This folding box board is ideal for showcasing branded products at the point of sale with the maximum wow factor. Atelier's ability to enhance the look of products is particularly evident in packaging for perfumes, cosmetics, beauty and skincare, fashion items and high-quality confectionery,' says Lars Scheidweiler, Product Group Manager Paperboard for Sappi Europe, when describing the product's features. The first examples of packaging produced from this ground breaking virgin fibre paperboard will be on display at the Fachpack.
In contrast to Atelier, Algro Design – the premium solid bleached board – is already well established with numerous international brand manufacturers. Nevertheless, Sappi still has some news on this subject to share. On 1 October, the product family will be expanded to include the new Algro Design Advanced paperboard, featuring a light reverse side coating, outstanding colour consistency and exceptional colour brilliance.
So there are several good reasons to visit Sappi's stand 9-260 at the Fachpack 2019. The Sappi Team is looking forward to personally discussing your needs in more detail.