Christoph Sontheimer of ECKART discusses the wide-ranging possibilities of metallic pigments
When it glitters, when it shines – people want it. The printing industry has long used metallic pigments and pearlescent effects to refine the appearance of packaging, wallpaper, magazines, catalogs and other advertising materials.
This is precisely the focus of ECKART GmbH. Its sub-brand illoom. Exclusive design effects by ECKART is a communication platform that helps designers, branded product manufacturers and agencies discover metallic effects. Christoph Sontheimer (Global Business Development Manager Marketing & Technical Services, ECKART GmbH) explains the advantages these effects offer, what drives illoom., and what Sappi has to do with it.
No matter the printing process in which metallic effects are sought – offset, intaglio, flexographic, silk screen or digital – to Sontheimer, the advantages of reflective pigments are obvious: "Brands can use metallic effects to set themselves apart from the competition. Metallic pigments enhance the appeal of the product on the store shelf". In terms of cost-effectiveness as well, the arguments for them are convincing: "Since they don't require any extra work steps or tools, they even offer a less-expensive alternative to hot or cold foil stamping, depending on the area to be covered. The savings can be passed on directly to the customer".
Metallic variety
The use of metallic effects is divided into the following categories according to the molding and production processes employed:
Cornflake pigments – standard form of metal effect pigments; irregular edges, comparatively high light diffusion.
Silver dollar pigments – special form of metal effect pigments (ideally, circular); compared to cornflake, smaller edge length for the same area, resulting in less light diffusion and greater brilliance.
METALURE® dispersions – contain mirror-like aluminum pigments which, through a special manufacturing process (physical vapor deposition, PVD), achieve an effect of the highest brilliance, comparable in its reflectivity and luster to that of metallized or hot stamping foils.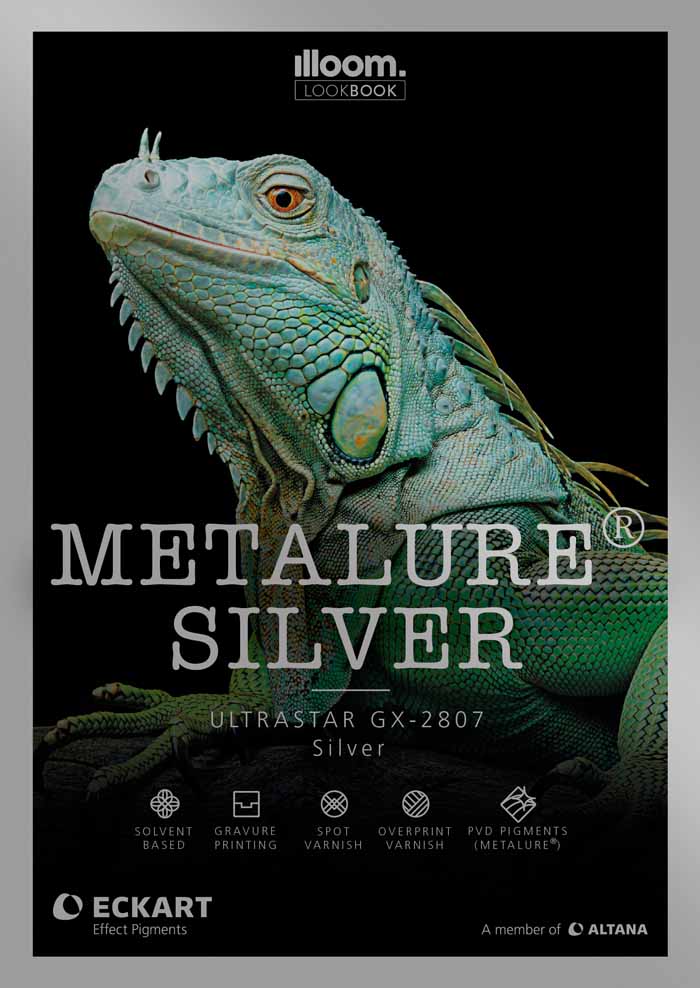 Economical eye-catcher
Sustainability is a central advantage of metallic effects, as the high efficiency they deliver additionally saves resources compared to substrate-specific processes like metallized paper/paperboard or hot- and cold-foil applications. Also, because it is  always about grabbing consumers' attention, the communication platform illoom. addresses users on the aesthetic level: "We want to convey to the creative minds as early as possible in the design phase what's possible with printing technology with metallic effects as a genuine alternative to hot- and cold-foil stamping", says Sontheimer, for whom playfully applied visualization is the fitting catchword: "Designers and branded product manufacturers can be tactilely and visually inspired while working with illoom".
Teamwork: substrate, printing process, protective coating, effect
Of course, the application of metallic effects calls for a high-quality substrate that is suited to the printing process used. "If the fit isn't right, even the most beautiful effect will be short-lived", Sontheimer explains. "A protective finish coating is necessary as well, to keep mechanical influences from destroying the metal pigments. It's also beneficial to use especially smooth, coated paper to enhance the lustrous effect. The paper's absorbency shouldn't be too high, or it will compromise the binding agents and prevent the effect pigments from fully bonding". He turns the focus back on the users: "You have to explain to them and show them from the beginning what to pay attention to if they want to use metallic effects and have everything appear to be of a piece". And that is exactly what the illoom. LookBook is about – produced by ECKART jointly with Sappi, and printed on the premium paperboard of Sappi's Algro Design product line.
Sappi and ECKART create a seamless experience
Sappi and ECKART have long collaborated on various projects. This time, the goal was to create a comprehensive aesthetic experience around the illoom. advertising media – an experience of premium tactile and visual quality and above all, complete consistency, the ultimate branding objective. Accordingly, the sample box and its individual product folders were designed and realized on the basis of the Algro Design product family, as if all of a single piece. To make users aware of the mutual benefits and enable them to easily reproduce the results shown, the individual product folders and the box containing them include corresponding references to the premium paperboards of the Algro Design family.
Algro Design Duo serves as stage for exotic animal world
The results are there to be touched as well as seen: the regal animal motifs printed on the Sappi paperboard Algro Design Duo 300 g/m2 demonstrate what is possible when the ECKART effects are employed in conjunction with different printing processes and pigment types. The luminescent underlying whiteness of the paperboard and its double-coated and therefore very homogeneous surface showcase the metallic effects especially persuasively. Sontheimer has a quick answer to the question of the decision to use the animal motifs: "They lend themselves perfectly to presenting neutral and attention-grabbing imagery. They also offer great possibilities for ideally showcasing the metallic effects – for example, using the scales of a fish". Without a doubt: "It's simply something that any creative professional or branded-product manufacturer would love to have on his desk and look at".
Sontheimer again emphasizes how important it is to hold trainings for designer and demonstrate to them the effects of the metallic colors on various parameters. Which is why the next project, the illoom. Visualiser platform is already in the starting blocks. "Packaging designers", Sontheimer says, "will be able to upload their files online and simulate and visualize metallic effects in real time – effortlessly and without prior experience". You couldn't ask for better learning conditions.
About ECKART GmbH
ECKART is a part of the ALTANA Group and a leading supplier of metallic and pearlescent pigment, with subsidiaries in North America, EMEA, and APAC. With a product spectrum ranging from effect pigments to premade metallic printing inks, ECKART is a competence and technology partner, supporting clients from the paint, printing ink, plastics, lightweight concrete, and cosmetics industries.