How paperboard helps boost sales via digital marketing channels.
Europeans are shopping on the Internet more and more. Online retailers generated around 602 billion euros in B2C business in 2017, according to the retailers' association Ecommerce Europe in its "European ECommerce Report 2017". This is more than double the level of sales in 2012 (298 billion euros). At the same time, traditional retail is losing market share. All of which poses the question: What does this development mean for the high-quality paperboard, that plays such a vital merchandising role in the challenge of commanding consumer attention?
Opportunities for brick-and-mortar retailers as well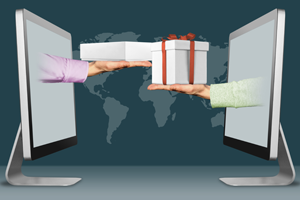 Some good news right up front: Today, the businesses profiting from digital sales channels include not just pure online traders, but also those brick-and-mortar retailers that adjusted early to the digital transition. "Online marketplaces like Amazon and eBay have the highest sales, but we see the strongest growth among sellers whose business is based on stationary retail", explains Gero Furchheim, president of the German E-Commerce and Distance Selling Trade Association (bevh), speaking to the German Press Agency.
Experts are in broad agreement about the factors that decide the success or failure of online sales. Along with criteria such as shop user-friendliness, low delivery charges and data security, it is above all the classic retail virtues, product selection and presentation of goods that play a crucial role. Packaging is an essential component of this presentation, as it doesn't just protect the product, but is also its most important ambassador. At digital contact points, the importance of this factor isn't diminishing but is rather increasing, as the advising salesperson from classical retail is missing.
If it doesn't come in quality packaging, customers won't buy it
It is just as true for the presentation of goods on the Internet as it is in the classic retail environment: people won't buy what doesn't look good. Thus in e-commerce, too, folding carton packaging can be decisive in making a first-class impression and in prompting the customer to click on "Buy". It is important here that no compromises are made in image quality. In online shops, paperboard based packaging should be presented in high-resolution and free of reflections. A zoom function and views from multiple sides can additionally increase buyers' interest.
To achieve this aim, the packaging must meet the highest demands – before the first actual contact with the buyer has even taken place. In particular, when the customer has ordered an especially high-quality product in an online shop, they often experience a feeling not unlike the anticipation of receiving a Christmas present. Many buyers will read the order confirmation from the sender again and use the logistics provider's tracking app to call up the current location of the eagerly awaited package.
"I want to be greeted by my package"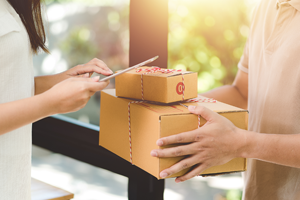 The decisive moment comes when the delivery person has handed over the package and the recipient removes the ordered goods. In the best case, the purchaser experiences a true sense of delight due to the premium quality and well-considered design of the paperboard based packaging. Numerous "unboxing" videos on YouTube, in which consumers allow complete strangers to witness the moment of unpacking, show just how emotional this experience can be. In a talk at FachPack 2017, Internet expert Sascha Lobo put this phenomenon in a nutshell: "I want to be greeted by my package".
A buyer's experience of this kind can only be enacted if the look and feel of the paperboard based packaging is are genuinely inspiring. A high-quality substrate like Sappi's premium paperboard Algro Design, with its satin-like surface, contributes to an unforgettable unboxing moment. Regardless of whether one decides on a single-coated, double-coated, or uncoated surface for the packaging design, a premium substrate facilitates its association with the original brand by the consumer. The visual consistency in brightness and shading helps in creating a uniform brand and product experience. This is especially important when offering different versions of a product or extending the product line. The diverse Algro Design product family, ranging from 160 to 500 g/m and offering uncoated, single-coated, and symmetrically double-coated surface options, provides optimal conditions for every case.
Online traders favor paperboard
It is already clear that, even in the online era, retailers prefer the paperboard based folding carton. In a survey by the EHI Retail Institute, in response to the question of what product packaging is especially well-suited to online shipping, 80% of decision-makers indicated a preference for paperboard over all other forms of packaging. Paperboard's popularity is based on a number of advantages. Paperboard based folding cartons aren't just ideal for presentation in online shops, but also protect their content in an exemplary manner. Moreover, customers love this form of packaging for gifts as well – and it is an all-in-one solution for both product packaging and shipping.
Experience the paperboards of the Algro Design product family with their immaculate, brilliant white surface and satiny feel now! We will send you your Algro Design Swatch Book free of charge.
Get the Algro Design Swatch Book now!