AWA conference brings the release liner industry back together
The AWA Global Release Liner Industry Conference & Exhibition 2021 is the international meeting point for release liner manufacturers and customers. After an 18-month break, it will take place for the 21st time next November.
From 15-17 November, the AWA Global Release Liner Industry Conference & Exhibition 2021 will invite participants to a physical event to Chicago (USA) as well as to a virtual exhibition. The 21st edition of the conference will feature an intensive exchange of ideas, the presentation of new market developments and networking with colleagues from across the entire value chain.
And thanks to the more than twenty sponsors – of whom Sappi is proud to be one – the conference will bring together the entire industry and offer a small exhibition as well as podium discussions with CEOs and executives. They can look forward to exciting discussions about current and upcoming challenges in the industry. The award-winning virtual platform AWAVirtual™ will also organise its own digital exhibition.
To ensure an optimal networking experience at the conference, AWA is offering digital opportunities in advance of the event. This ensures that participants can already start planning and booking their meetings and take part in interactive round table discussions.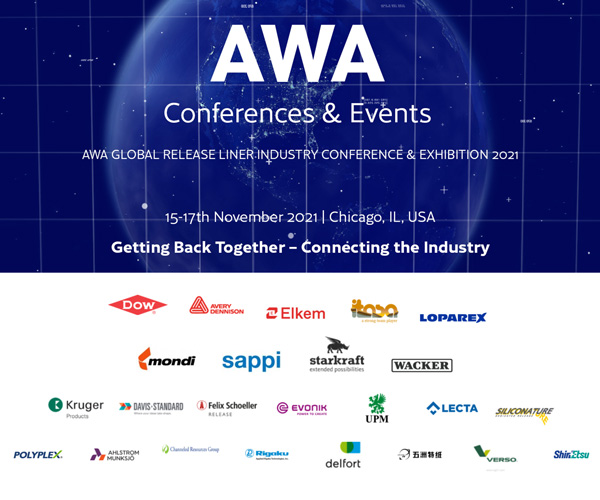 Highlights from the conference programme
As Francesco Ticca, AWA Conferences & Events Manager, announced during the AWAVirtual Preview for the Global Release Liner Conference: 'The programme from 15 to 17 November includes the CELAB meeting, the presentation of the AWA Release Liner Industry Leadership Award, the keynote speech from Julie A. Schertell (CEO of Neenah), the podium discussion on leadership issues, as well as important updates about capacity and demand dynamics for materials such as cellulose and paper, resin foils and silicone.'
The experts will present detailed analyses of current trends, challenges and solutions, especially with regard to recycling and sustainability of release liners, as well as a comprehensive market assessment of their application segments.
Hybrid event with face-to-face networking sessions
To ensure an optimal experience, the conference will build on the success of previous events and draw on the great demand for face-to-face networking sessions.
'We chose a hybrid concept where the conference highlights and other contents are available via streaming. In this way, we can ensure that AWA and the AWAVirtual™ Hybrid Conference & Exhibition provide the best of both worlds for all participants and sponsors.'
The conference will take place at the University Club of Chicago (USA). To register, visit the website https://awa-bv.com/product/grlice21/. As the event draws nearer, the complete programme will be available here.