GRÄFE ensures a sustainable and stylish festive season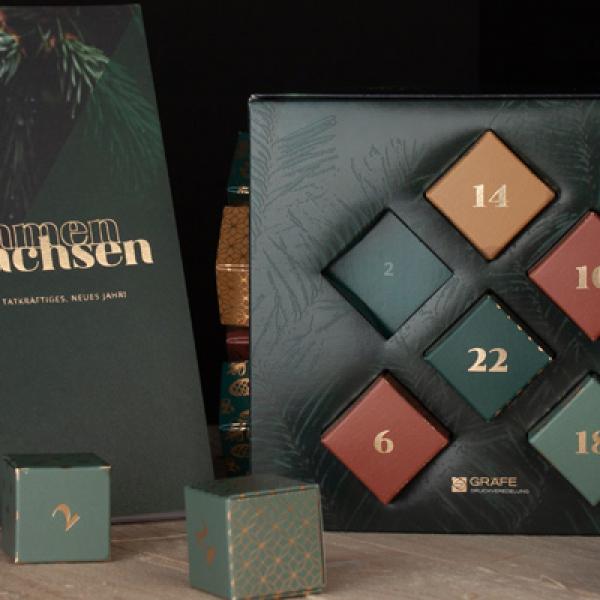 How a sustainable Advent calendar was created with Algro Design via transfer enhancement
Every year, the Advent calendar from the GRÄFE Druckveredelung group brightens up the lives of customers. Using Algro Design as the base material and following an environmentally friendly enhancement procedure, this time it has been planned and produced from beginning to end with sustainability in mind. Frank Denninghoff, managing director of GRÄFE Druckveredelung explains the concept and the approach.
A stylish appearance and sustainability are not mutually exclusive.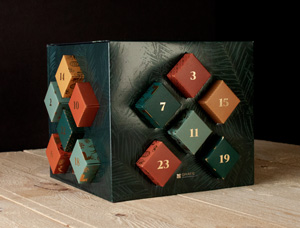 'This year, everything is different. We are increasingly aware of the changes taking place in our world and the growing challenges that make sustainability more important now than ever before,' Denninghoff says, alluding immediately to the calendar concept, and it is immediately clear that he is passionate about sustainability. 'Our focus should not be on excessive luxury, but on the subtle message that style and sustainability are not a contradiction in terms when it comes to printed matter,' he says. It is particularly important to Mr Denninghoff that there is no sense of greenwashing in this, rather, we want to show with the calendar how important it is to offer sustainable enhancement from an environmental perspective, with sustainable communication and making a sustainable impression – both in look and feel.'
24 lasting moments of pleasure
To create highly attractive print products from this process, whilst keeping sustainability in mind, Frank Denninghoff and his industry colleagues need meticulously planned design concepts, that can connect to customers on a multi-sensory level, whilst giving equal priority to sustainable best practice. They succeeded in this. When you look at the spruce-green, discreetly enhanced Advent calendar with its gold-clad facets, and then open the little boxes and savour the carefully packaged contents, there are 24 little moments of pleasure that are sure to make a lasting impression. This makes the motto 'Growing together' on the enclosed Christmas card all the more resonant, with a message that consciously carries multiple meanings.
Subtle transfer enhancement on Algro Design
For the box, the solid bleached board Algro Design Card, with a double-coated front and single-coated back, is used, in a grammage of 345 g/m², while the individual little boxes are produced using Algro Design Advanced (300 g/m²).
When asked why he chose Algro Design from Sappi as the base material, he quickly replies: 'It's quite clear. Not only does it offer a high degree of brightness, but also the capabilities of a high-quality premium paperboard that is perfectly suited for complex surface enhancements. GRÄFE and Sappi also have a long-standing partnership characterised by mutual, sustainable values and a love of high-quality print products.'
Everything can be de-inked and recycled
As far as the enhancement process is concerned, no film is applied at all, but rather an extremely thin (2 µ) decorative layer is transferred with minimal use of material. Mr Denninghoff stresses that this does not pose a problem in the recycling process – the Advent calendar can be completely de-inked and recycled. The PET carrier film is also returned to the material cycle via a special transfer recycling programme operated by KURZ. As one of the original print enhancement companies, GRÄFE is involved in this special recycling programme. Frank Denninghoff sums it up: 'If our customers and partners like the Advent calendar, enjoy it and can identify with the chosen theme of sustainability, then we have achieved our goal.' Also important to mention are the delicious chocolates from a select chocolate shop in Bielefeld.