How KURZ is inspiring people with its trend boxes
The trend team at Leonhard Kurz Stiftung has had its finger on the pulse of trends for the last ten years. Now, the seventh edition of the trend boxes is wowing the world of packaging design. We answer the most important questions and present the latest packaging concepts.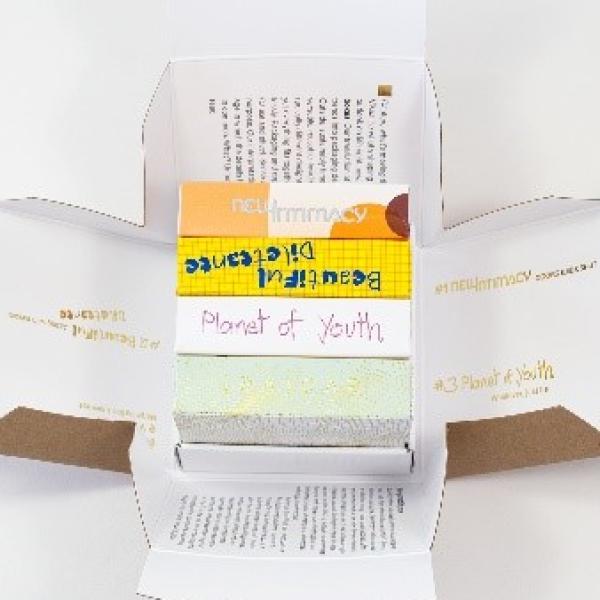 What topics affect people around the world? And how are these expressed in packaging design? To answer, KURZ put together its own trend team around four designers. The goal: To always stay up to date, or even being a step ahead so as to inspire customers and respond more effectively to their future needs.
How are the trend boxes created?
To create the boxes in line with the needs of today, the team observes social changes that have a global impact. If these trends are more relevant and long-lasting than mere 'hype', they are included in the trend studies.
The team always has a wealth of issues to look at. In the process, it becomes evident which issues are similar, which belong together and which are distinct from one another. In this way, four relevant trends come together bit by bit, which are then connected with the design studies. And as the trend research process has now been carried out eleven times and has manifested itself in seven trend box editions, a large amount of experience, knowledge and sense for trends has been developed.
What trends are currently in focus?
Sustainability is more important than ever right now. People want to live in a world that focuses on social issues, climate protection and the environment. However, as KURZ has already identified sustainability as being a relevant trend for many years and it is now well established as a key subject, it is, of course, incorporated into the current design study but not specifically mentioned as a separate trend topic.
Then again, other trends are constantly being superseded by new ones. However, they sometimes re-emerge in a different form a few years later. And this is what makes things so interesting for the trend team.
What was the goal for 2022?
This year, KURZ created even more sustainable packaging. The goal was to reduce material and adhesive consumption and to design the folding boxes in a way that they can be folded as flat as possible and recycled efficiently.
The outer box was therefore designed for immediate postal dispatch. The customer's address can be personalised on the label, which is applied with thermal transfer film. To individually label each box in the limited set of 1,200 units, KURZ numbered them using a GOLD thermal transfer ribbon (TTR) process. Also, there is no additional booklet. All information about the individual topics and products used is included on the inside of the boxes.
The four trend boxes at a glance
In addition to the actual designs, KURZ developed eight new LUXOR® trend colours and two new LIGHT LINE® trend designs for the boxes. Two of the colours are combined with the established LIGHT LINE® samples. Sappi's premium solid bleached board Algro Design serves as the basis for the folding boxes and further supports the various finishing designs.
#1 New Intimacy
This design plays with different levels, tactility, opacity and transparency. LIGHT LINE® Zoning conjures up a shimmering light line with concentric circles that simultaneously symbolise boundaries and permeability. COLORIT® 307027 Orange Matter, on the other hand, offers a warm, transparent orange, highlighting the aspect of a 'safe space', while LUXOR® 110297 White Shade provides a feeling of protection in the form of a matt, metallic, warm white. The uncoated interior of Algro Design Nature gives the box a soft, tactile feel that goes very well with the subject at hand.
#2 Beautiful Dilettante
Here, blind-embossed and round-embossed cross stitch, adhesive tape and patchwork elements are used to represent a DIY feel and to make the trend box a haptic experience. Basic Blue LUXOR® 110181N offers an impressive deep blue metallic effect, while Crafted Gray LUXOR® 110296N is inspired by casting and plaster moulds and concrete. LIGHT LINE® Tape was used to create a layered design with various masking tapes. And since the colours should be used to optimal effect, the trend team opted for Algro Design Card, which is coated on both sides.
#3 Planet of Youth
This trend box sums up the contrasting lifestyles of digital natives. Defiant Pink 946032 on LIGHT LINE® Twinkle shows a new trend colour on an existing LIGHT LINE® design, which represents the playful, child-like aspect. As a metallised, powerful black, Gloom LUXOR® 110294 forms the dark, pensive contrast to this. In terms of materials, this trend box stands out with its coated exterior, representing cheerfulness, and its somewhat matt interior, representing the reflective nature of the young generation.
#4 evolve!
While the yellow, slightly matt dots cover the surface, the blind-embossed contour lines rise up in steps and symbolise evolution. Here, Purple Shift 946033 on LIGHT LINE® Velvet TS was applied as a dark purple on a transparent holographic design. Yellow Portal LUXOR® 110295N emphasizes the theme as a yellow, slightly matt, metallic colour. And since the focus is on the future, Algro Design Duo, a clear, double side symmetrically coated, silky paperboard, is the perfect basis.
What has the response to the trend boxes been like?
As KURZ can testify, the response has been very good. Every year, customers look forward to seeing the latest trend presentations. The newest versions have already won multiple awards – including a special mention from the German Design Awards and Red Dot Awards.
And the next set of topics is already emerging: The pandemic and the war in Ukraine have really made people stop and think. Many changes are ahead of us and some of these will for sure play a major role in the next trend studies.