Sappi at the interpack 2023 show in Düsseldorf
Futureproof – meeting the packaging challenges of today and tomorrow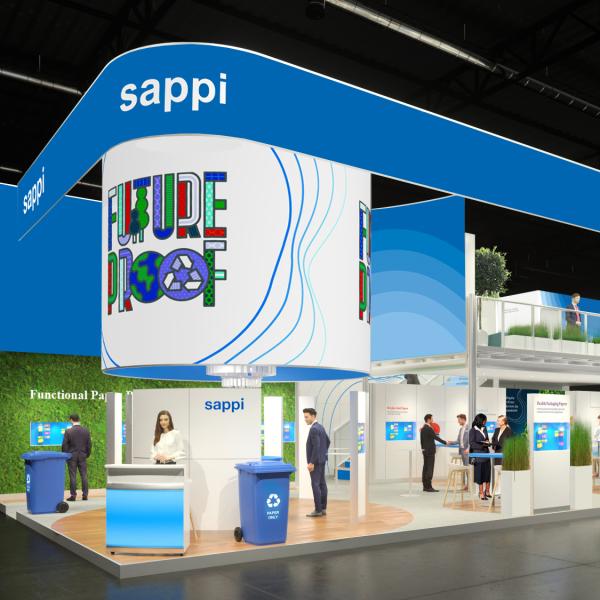 The time has finally come: between May 4 and 10, the global packaging industry will get together at the interpack in Düsseldorf. Sappi, as a leading manufacturer of packaging and specialty papers, will be exhibiting at Stand B35 in Hall 8A. Innovative paper and board products, plus flexible packaging solutions – including barrier papers, wet glue label, containerboard and paperboard – will all be on display. Sappi will also be providing details of current investments in its various mills and showcasing the latest solutions that have been developed as a result.
The last interpack show was held six years ago – a long time in the packaging industry. It's time that Sappi has used to significantly expand its portfolio of packaging papers and add new, cutting-edge technology to its production sites. At Stand B35 in Hall 8A, under the "Futureproof" theme, Sappi will be underscoring its position as a leading global provider of renewable packaging materials – a provider that is well aware of its environmental responsibility and that is continuously driving the sector forward.
As Marco Eikelenboom, CEO of Sappi Europe, explains:
"Increasingly our customers are not only seeking, but also bound by legislation to demand sustainably produced and recyclable materials for the outer packaging of their goods. This expectation is on the rise not only by manufacturers but also consumers. We have invested in our sites to be able to respond quickly and flexibly to current and future market requirementsand to further consolidate our position as a premium supplier of woodfibre based packaging papers and boards."
Two new barrier papers from the Guard family
At its Alfeld mill in Germany, Sappi has invested a multi-million euro sum in an entirely new type of barrier coating line which was recently put into operation along with an in-house coating kitchen, roll finishing and an automated transport system (AGV). The state-of-the-art solution will be used to produce innovative high-barrier papers. Product samples will be on display at the fair.
Sappi will also be introducing two new papers from the Guard product family: the high barrier Guard HS, which ensures outstanding product protection thanks to its strong water vapour barrier plus heat-sealable properties; and Guard Twist, a twisting paper with integrated barrier for the food sector that can, for example, be used as confectionery wrapping.
Another entirely new addition to the functional paper packaging segment is Sappi's Seal Light – a sealable paper without barriers that will be presented for the very first time in its Nature version, with a 45 g/m² grammage, and as a Gloss version, with a 54 g/m² basis weight. The paper is designed for primary and secondary packaging.
The translucent paper Crystalcon and a new uncoated flexible packaging paper
Beside functional papers, Sappi is introducing further new papers in flexible packaging. With Crystalcon, the company is presenting an uncoated, compostable, translucent paper suitable for both food and non-food applications. Featuring enough transparency to make the packaged product visible, it can be used as a sustainable alternative to film. That means potential applications range from pasta or rice packaging to magazines, envelope viewing windows and sales packaging for greeting cards. In addition, Sappi will launch a new range of uncoated flexible packaging paper. The matt optic and the unrivalled haptic of the paper meet the trend for a more natural look and feel for flexible packaging.
Parade Label Pro label paper with new grammages
Of course, Sappi will be showcasing its successful wet glue label paper Parade Label Pro – the one-side, double-coated, glossy, wet-glue label paper with a high degree of whiteness that enables excellent printing and finishing results. The paper is designed for all standard wet-glue label applications, such as wrap-around labels for non-returnable bottles, tins and jars. And also for flexible packaging applications such as chocolate wrappers or soft packs. Due to increasing demand, Sappi has expanded production to a higher basis weight for Parade Label Pro, which was previously available in grammages of 80 g/m² and 90 g/m². The label paper is now also available in grammages of 100 g/m², 110 g/m² and 120 g/m². Samples will be available at the show.
Embossed Fusion Topliner
Sappi has also extended the capabilities of its Fusion Topliner product. The double-coated, bright white, virgin fibre liner features excellent surface quality and strength. Its white surface ensures brilliant colour reproduction. Fusion Topliner was specially developed by Sappi for use on corrugated boards and solid board laminates. Previously available in different grammages between 90 g/m² and 180 g/m², the Fusion Topliner is now also available as an embossed version in 100 g/m² and 115 g/m². This provides new branding options, such as requested by the gaming industry.
Algro Design product family meets the highest demands
From the paperboard sector, Sappi will be showing a selection of its high-quality Algro Design portfolio for brand manufacturers in the luxury segment. The virgin fibre board stands out with its high brilliance and silk-matt feel, and is ideally suited for premium packaging applications including perfumes, cosmetics and confectionery.
The new Paperpack Community: an opportunity for sharing ideas and insight
Many current packaging topics are complex, while the switch to sustainable solutions presents brand owners and converters with real challenges. Sometimes, a few in-depth discussions at a trade fair aren't enough to answer all questions. That's why Sappi recently launched a new online community for the packaging industry where interested parties can exchange views on relevant topics. Information on how to register will be available at the booth.
"The Sappi Team is looking forward to once again welcoming visitors to our booth, to update them on our ever-growing portfolio and help them experience the products of the future. These events also bring with them the opportunity for inspiring discussions  that help us and our customers work together to provide the innovations of a sustainable tomorrow."