Sustainable, reliable, partners
Sappi to showcase its new range of high-quality label papers and release liners at Labelexpo Europe
Sappi, a leading manufacturer of speciality papers, will be introducing its extensive range of face stock papers, silicone base papers and wet-glue label papers at the upcoming Labelexpo Europe in Brussels from 11 to 14 September 2023. Visitors to the Sappi stand in Hall 5, Stand B 13, will have an opportunity to experience the company's new CCK, Glassine and label papers. As a reliable and sustainable partner, Sappi supports its customers in the self-adhesive industry with specific solutions.
New Sol PHD with very smooth surface and natural shade
Enhanced formulation of Glassine papers from the Silco product family 
The new semi-gloss Parade Label SG face stock paper
Parade Label Pro for non-wet-strength wet-glue labels
Parade Label Pro WS for high performance wet-strength wet-glue labels
High availability and fast delivery of label papers thanks to portfolio expansion at the Gratkorn site
Converters, printers, and brand manufacturers can always rely on Sappi as a global provider of comprehensive solutions, consistently delivering premium-quality products. This includes their extensive portfolio of silicone base papers, face stock label papers and wet glue label papers. As an independent provider to the sector, Sappi continually introduces innovative options for self-adhesive and wet-glue labels.
"We are eagerly anticipating face-to-face discussions and the opportunity to showcase our new products at our Labelexpo exhibition stand."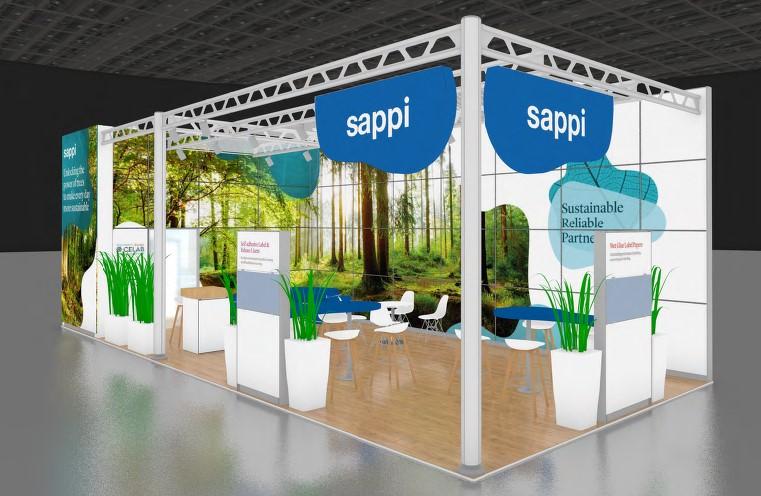 New silicone base papers for greater efficiency
Sappi's Glassine and CCK silicone base papers offer exceptional siliconization properties as well as easy and efficient processing. They are used as release liners for a variety of self-adhesive applications such as self-adhesive labels, visual communication applications, adhesive tapes and office supplies.
To meet the high expectations of its customers, Sappi is upgrading its Silco product, with an optimized surface treatment formulation for the Silco Glassine product family. These include the supercalendered Silco Label and Silco Tape BS papers as well as Silco Process Liner BS. The Silco Glassine range is for decades  successfully produced at Sappi's Condino mill in Italy.
Sappi will also be presenting its new Sol PHD, a one-side double-coated CCK paper particularly designed for visual communication applications. composites and self-adhesive tapes. The paper is available in a grammage of 135g/m². It features characteristics such as high internal bond strength, a smooth surface and low silicone consumption, as well as problem-free, cost-efficient handling and excellent lay-flat properties.
Outstanding label papers
The new Parade Label SG face stock paper boosts first-class printing and finishing properties. This one-side coated, semi-gloss paper for self-adhesive label applications excels with its outstanding printability, opacity and stiffness, as well as its excellent further processing capabilities. It is ideally suited as a self-adhesive label for prime product labelling, general packaging, transport packaging, disposable bottles and containers.
Parade Label Pro has been very well received in the market. The glossy, one-side double-coated non-wet strength wet-glue label paper features an exceptionally smooth surface as well as a high degree of whiteness, while ensuring excellent printing and finishing results. Visitors to Labelexpo will experience the paper – designed for challenging labels in the food, beverage and consumer goods sectors – as the perfect choice to achieve distinctive visual impact and product differentiation in retail environments. Selected references from around the world will be presented to visitors at the stand. Parade Label Pro is produced at Sappi's Alfeld mill in Germany and at Gratkorn mill in Austria in grammages of 80 and 90 g/m² in reels and sheets. The Alfeld mill also produces Parade Label Pro in higher grammages of 100, 110 and 120 g/m².
Investment in wet-glue wet-strength label papers at Gratkorn
To further strengthen its label paper business, Sappi announced a significant long-term investment at its production site in Gratkorn, Austria, at the end of last year. The project has been implemented and the first volumes of the new wet-strength wet-glue label paper qualities have been produced. To ideally meet industry requirements, Sappi is collaborating with major customers on this project. Beginning in October 2023, the new wet-strength wet-glue label paper, which will be distributed under the "Parade Label WS" brand name, will be delivered to selected customers for longterm field validation. Visitors to the Labelexpo, who are interested in finding out more about the company's investment in the Gratkorn mill and about the new Parade Label Pro WS, are invited to address Sappi's representatives directly at the stand for further information.
Targeted focus on availability and fast delivery
To ensure 100% availability and fast delivery of its label papers, Sappi has secured reliable production and seamless supply chains. Whereas label papers in Europe were previously only produced in Alfeld, Germany, in Carmignano, Italy, and in the USA at the Somerset site, Sappi now offers an ideal addition with its plant in Gratkorn, Austria. The state-of-the-art production facilities, covering everything from paper machines to sizing equipment, and decades of expertise in the production of coated papers are the best prerequisites to ensure first-class products. Shorter production cycles enable Sappi to always guarantee availability and fast delivery of its premium label papers.