Video: What silicone base papers do in practice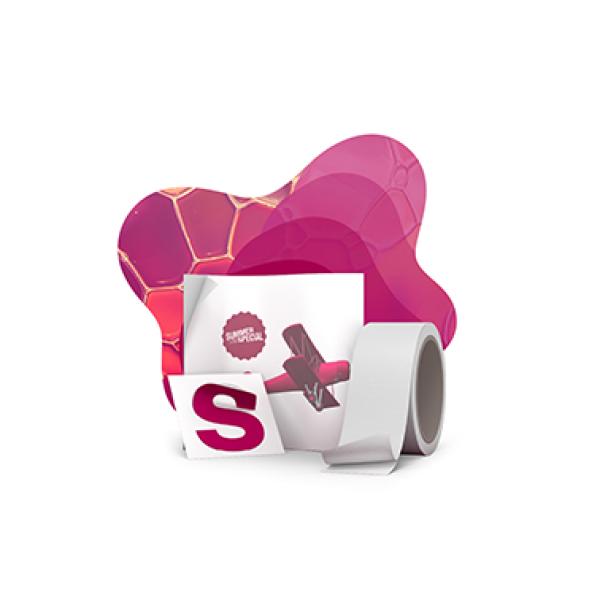 For many self-adhesive applications, silicone base papers are the release liner of choice. It is important to have cost-efficient, straightforward, smooth siliconisation processes, as well as proper, error-free handling of the self-adhesive end product. Discover how you can rely on over 50 years of product experience with Sappi's silicone base papers.
What is silicone base paper?
Silicone base paper is used as a release liner for various self-adhesive applications. This includes CCK and glassine papers from Sappi. They are subsequently siliconised by our customers through further processing. Thanks to their non-stick silicone coating, the papers are able to protect products such as adhesive tapes and self-adhesive labels from accidental sticking and also ensure smooth usage. The siliconised papers are also used as process liners in prepreg production.
Visual communication
Street signs, advertising on shop windows, protective films, and car graphics and design. These are just a few of the ways in which self-adhesive films and paper are used. To ensure that the end result meets the desired standard, a high-quality, silicone-coated base paper is required.
All types of adhesive tape
Whether it's for carpet tape or industrial adhesive tapes, our silicone base papers will do the job. Industrial adhesive tapes are increasingly being used in the production of various products, including in the automotive and electronic industries.
Self-adhesive labels
Self-adhesive labels also need a good release liner. These labels are used on wine bottles, transport packaging, and for weighing fruit and vegetables, for example.
Self-adhesive office material
When labelling file folders or putting address labels or even shipping labels on parcels or letters, it is important that they peel off from the substrate as smoothly as possible. Our silicone base papers are also constantly used for this.
For composite material
Pre-impregnated carbon fibres are essential in the automotive industry, aerospace, sports equipment production and in many other manufacturing fields. Silicone base papers are used to separate the individual carbon fibre mats so that they do not stick together during transportation, storage and production.
Benefits of Sappi CCK and glassine papers
This much is clear: a high-quality release liner is essential in order to guarantee a high-quality self-adhesive end product. And to ensure that the result is right, we produce CCK and glassine papers with consistently high quality. They offer:
Excellent siliconisation properties

Fast curing of silicone

Very good silicone anchorage

Low silicone consumption coupled with a homogenous silicone surface
50 years of experience
With Sappi, you have a reliable, independent partner by your side, who offers worldwide availability and support for silicone base papers. You will benefit from around 50 years of development experience and continuously enhanced products, thanks to which we have established a leading position in the market for paper-based release liner solutions. Along with our face stock papers for self-adhesive labels, we offer everything from a single source.
Learn more about our CCK and glassine papers: