New CEO of Sappi Europe supports sustainable change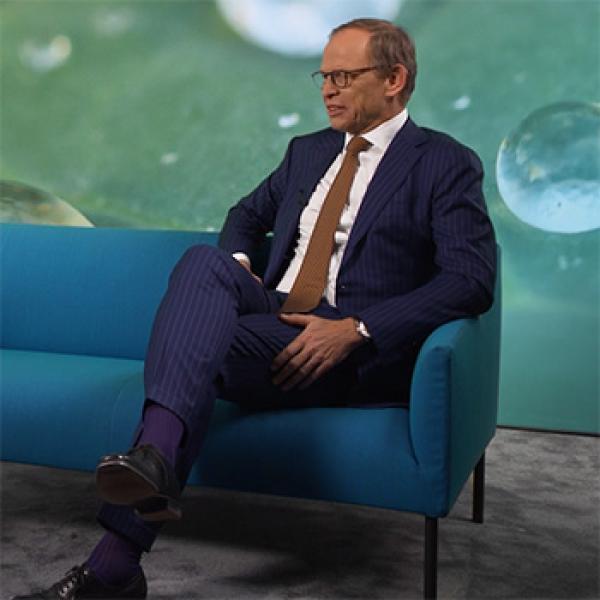 Industry talk from the Sappi Blue Couch
The world has changed in the last 1.5 years, the impact of this is also being felt at Sappi Europe. Under its new European CEO, Sappi Europe is therefore repositioning itself to ensure the company becomes more resilient and robust. Find out how Marco Eikelenboom intends to drive the company's transformation and what challenges need to be overcome in the new episode of the Blue Couch Series on Wednesday 26 May at 10 am (CET) on www.sappi-bluecouch.com.
Blue Couch Series returns with new episodes
Sappi Europe's new CEO Marco Eikelenboom guests on the Blue Couch
Wednesday, 26 May at 10 a.m. (CET)
  On 26 May, there will once again be intensive discussions: In the fourth edition of the Blue Couch Series, everything revolves around responsibility, sustainability and innovation. The new CEO Marco Eikelenboom will report exclusively on his first weeks at the helm of Sappi Europe and, of course, on topics that concern him as a strategic corporate leader: How do current ecological, economic and social changes affect Sappi Europe's strategy and actions? What is in the new 5-year strategy and what impact does it have on the value chain? Why is there a particular focus on sustainability, reducing complexity, stability and resilience? And last but not least: How can sustainable change be shaped and what are the prospects for paper manufacturers and the industry? These and many other questions will be answered on 26 May at 10 am (CET) on www.sappi- bluecouch.com. The Blue Couch digital interview series is taking place for the fourth time to promote B2B exchange, to take a look behind the scenes of the Group and into the future of the paper industry. Missed an episode? Here you can watch all videos of the Blue Couch Series when and where you want: www.sappi-bluecouch.com.