Upgrade for innovation: the new coating kitchen at Sappi's plant in Condino
To stay innovative, it is important to modernise. Sappi invests in a fully automated coating kitchen at its Condino plant. The state-of-the-art technology puts Sappi in an even better position for the future.
Sappi Condino in Trentino (Italy) makes products for markets all over the world. These include coated and treated speciality papers, ranging from sublimation papers to silicone-based papers and flexible packaging paper. The diverse range of papers enjoy an excellent reputation in their markets, due to their consistent high quality performance. Thanks to continuous improvements and modernisation work, the papers are always produced using the very latest technology. To take the coating kitchen, too, to a new level, Sappi made a multi-million euro investment. The result is a new coating kitchen with fully automated state-of-the-art technology.  
Development of unique solutions for high-end applications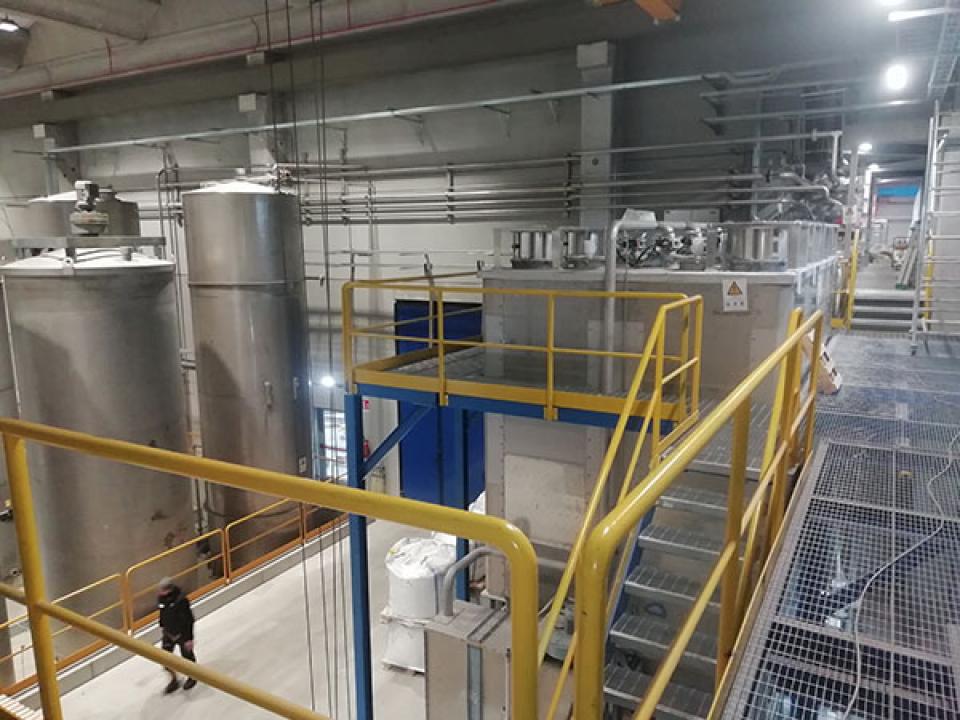 When it comes to coating technology and expertise, Sappi enjoys an excellent reputation among processors and customers and is one of the leading producers in these markets. This exceptional capability, combined with decades of experience, provides strong cornerstones for the development of innovative paper-based solutions.
The new coating kitchen in Condino aims to cement and build upon this position. This will enable sustainable innovations to be promoted and accelerated in a targeted manner through the optimised mixing process of the coating colours.
Benefits of the new coating kitchen at a glance:
Further optimised coating colour quality and stability thanks to fully automated batch control
Production of varieties with complex coating formulations now possible
Faster formulation changes and automated consumption control/calculation
Minimised environmental risk thanks to new chemical unloading stations with safety troughs
Cutting-edge technology supports the development process
The new coating kitchen takes the existing knowledge, competence and equipment that Sappi has and compliments it with brand new, innovative technology. The automation system in particular plays a key role here. To accommodate this new capability, a completely new building was constructed for this, along with new environmental safety facilities.
One thing is clear: Sappi has always been one of the leading names when it comes to finishing and coating and with the new fully automated coating kitchen in Condino, innovative paper solutions can now be developed and produced even more efficiently and faster for customers worldwide. As a result, Sappi is setting another milestone for a successful future.