Why the future of sustainable packaging is fibre-based
Sappi's new 28-page magazine unwraps how fibre-based packaging is helping to creating a recyclable, resource-efficient future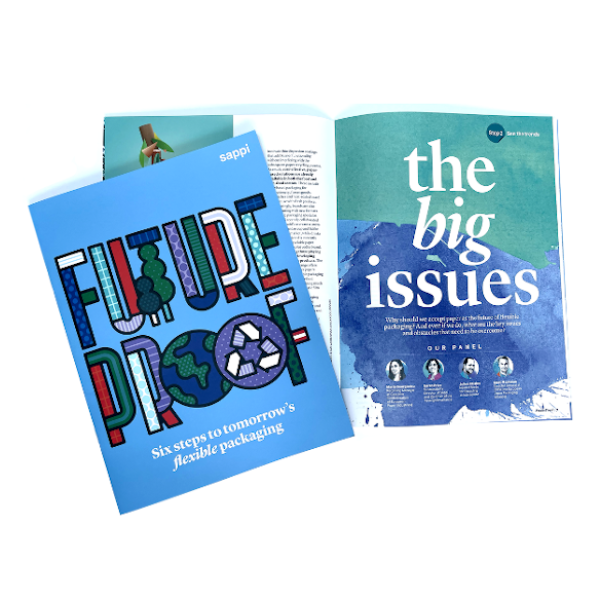 Sappi's new magazine, FutureProof: Six Steps to Tomorrow's Flexible Packaging, is a valuable guide to how innovations in paper are reshaping the packaging industry. With concerns over waste and sustainability top-of-mind for both consumers and regulators, paper-based solutions can offer easily recyclable and cost-effective solutions – solutions that Sappi is at the forefront of investing in, exploring and innovating. Futureproof is your invitation to discover more about the barrier paper innovations that are revolutionising mono-material packaging.
FutureProof takes a deep dive into the current state of sustainable fibre-based packaging – and where it is headed tomorrow. It examines the scale of today's packaging waste problem, and looks at how regulators and manufacturers are introducing initiatives to turn things around.
There are questions – what is the role of paper in the future of flexible packaging solutions? – as well as solutions, alongside informative case studies vividly illustrating how companies are collaborating to bring innovative products to market.
6 essential FutureProof takeaways
1. Understand the size of the problem – and don't underestimate the desire for change
Packaging produces a staggering amount of waste – of 460m tonnes of plastic produced in 2019 only 9% was recycled. The rest is in landfill, dump sites and the oceans. But consumers are aware of the problems and want change – surveys reveal that across Europe people are increasingly anxious about the status quo.
2. Appreciate how innovation and collaboration introduce brands to robust, paper-based flexible packaging solutions
Sustainable packaging is a collective effort that requires partnership between industry players. That's why, for example, Sappi has been working with packaging development specialist Sirane to bring plastic-free solutions to market. As a result, Sirane's Earthpouch – made from recyclable coated paper – is heat-sealable and already market-tested for porridge oats and chocolate buttons.
3. See what happens when a confectionary industry icon switches to paper packaging
Nestlé's Smarties brand recently became the first global confectionery line to move to paper-based packaging. The global project took more than two years to complete – but not only was the new packaging recyclable (and award-winning), it actually boosted consumer demand.
4. Recognize the implications – and opportunities – of the EU's Packaging and Packaging Waste Regulation (PPWR)
The EU is getting serious about packaging waste and is using PPWR to prevent packaging waste, boost recycling rates and reduce demand for primary natural resources. FutureProof brings together a lively panel of experts to dissect the regulations and what they mean for the future of the packaging industry – and for a fibre-based packaging market set to be worth more than $500bn by 2027.
5. Get inspired by brands that have already embraced paper packaging
Sappi's fibre-based flexible packaging is already used to wrap and protect food products around the world – be it organic rooibos tea from South Africa, a cult chocolate brand from the Netherlands or a German company's organic rice from Thailand. They all have one thing in common – using paper to meet the challenge of sustainable flexible packaging.
6. Discover how innovation makes the difference
After seven years' of R&D and major investment, Sappi's Alfeld Mill in Germany recently switched on its state-of-the-art barrier paper machine – now capable of producing 300m square metres of new barrier papers every year. By providing bespoke flexible packaging functionality to customers, it's a live example of how industry innovation can create sustainable, recyclable products that already deliver for the market.