A common mission for packaging and content
Organic cereal manufacturer Bauck upgrades its production with sustainable, paper-based packaging materials
The trend towards environmentally friendly, resource-saving materials continues, although many food manufacturers are still quite reluctant to switch from plastic-based solutions to paper. However, a joint project between innovation driver Sappi and packaging machine manufacturer ROVEMA clearly shows that the switch is possible even where very strict sustainability guidelines apply. For Bauck, a company that manufactures its products in compliance with Demeter[1] and organic standards, production has been successfully converted to sealable, paper-based, stand-up pouches produced with Sappi Guard.
Acting sustainably and conscientiously in all areas of production is intrinsic to the Bauckhof brand's DNA. Founded in 1969, Bauck GmbH is a state-of-the-art grain processing company with its headquarters in Germany's Lower Saxony region. In addition to flours and flakes, Bauck produces mueslis and baking mixes – all in Demeter and organic quality. For Bauck, biodynamic product cultivation is in the foreground. The company is strongly focused on its responsibility towards the earth, people, animals and plants – with the careful use of resources such as energy, soil and water. Of course, this also applies to the packaging of its high-quality products.
Every day, some 139,000 packages of the best organic flours, flakes and baking mixes come off the production line at the company's Rosche location. Whereas product protection and safety were initially the primary focus when packaging sensitive foodstuffs, Bauck was faced with ever-increasing customer demand for sustainable packaging materials: "As a producer of organic and Demeter-grade products, it is important for us to develop and market more sustainable packaging solutions. Our customers are very vigilant on the issue of sustainability and have repeatedly made their preferences clear," explains Hannes Öhler, Head of Marketing & Communication at Bauck GmbH.
"This propelled us to begin converting our processes in 2019 and we now use paper-based packaging for most of our products."
Not all products can be converted however. Plastic cannot be entirely avoided with products such as oat pops which easily absorb moisture. However, it is also possible to switch to alternatives such as recyclable mono-PP. To convert processes to paper-based packaging wherever feasible, Bauck counts on active support from its long-standing partner, packaging machine manufacturer ROVEMA, along with the paper experts from Sappi, who together developed an ideal solution consisting of the right machines and barrier papers.
A common mission: Sustainability
ROVEMA and Sappi are both committed to a common sustainability goal, and Bauck evidently selected the ideal network partners. For the packaging machine manufacturer from the German state of Hesse, responsible development is reflected in the careful, environmentally friendly handling of existing resources. By using innovative technologies that facilitate and enable the processing of renewable packaging materials, the company's products and lines are also intended to ensure greater economic sustainability. ROVEMA's long-standing partner Sappi is also committed to sustainable production from renewable raw materials and to high product recyclability. A responsible approach towards the environment and natural resources, and towards making the entire production process as sustainable as possible is a top priority for the innovation leader. These were the best prerequisites for developing an optimal solution for the Bauckhof brand's new packaging.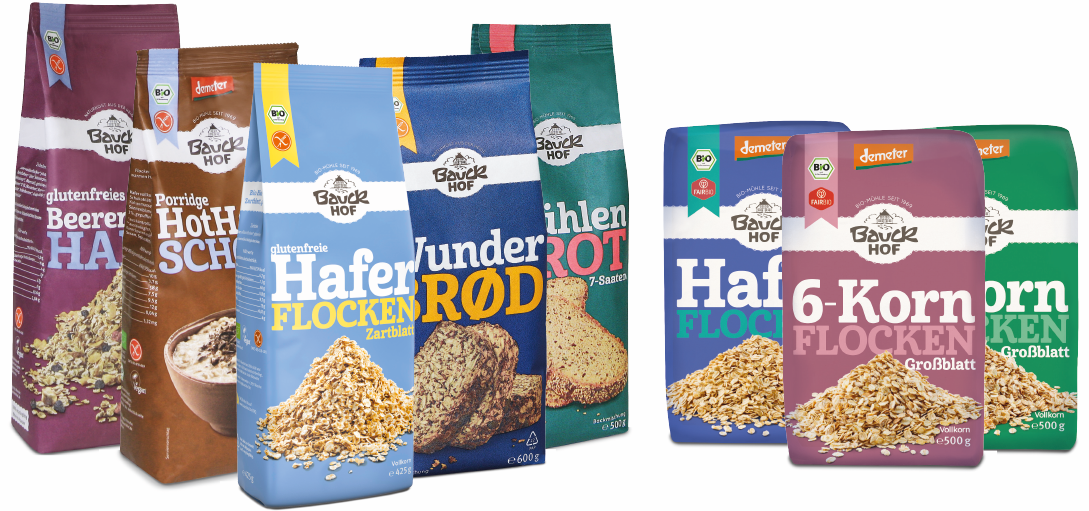 The challenge of paper-based pouches
Unlike stand-up pouches or flat bags made of composite materials, paper-based alternatives need to be handled much more carefully during the bag production and packaging processes. Paper tolerates very little tension transfer and can tear easily. Also, during the subsequent filling process, much more attention needs to be paid to the puncture resistance of the paper being used. "Moreover, the material has to withstand handling during in-house secondary packaging, during transport to the warehouse and then to the supermarket, where the product is touched and even squeezed by customers," explains Markus Stahl, Production, Packaging & Mixing Plant Manager at Bauck. "To find the perfect material for us, ROVEMA and Sappi ran numerous tests over several weeks to explore the interaction between the packaging material and the packaging machine – and to match them perfectly."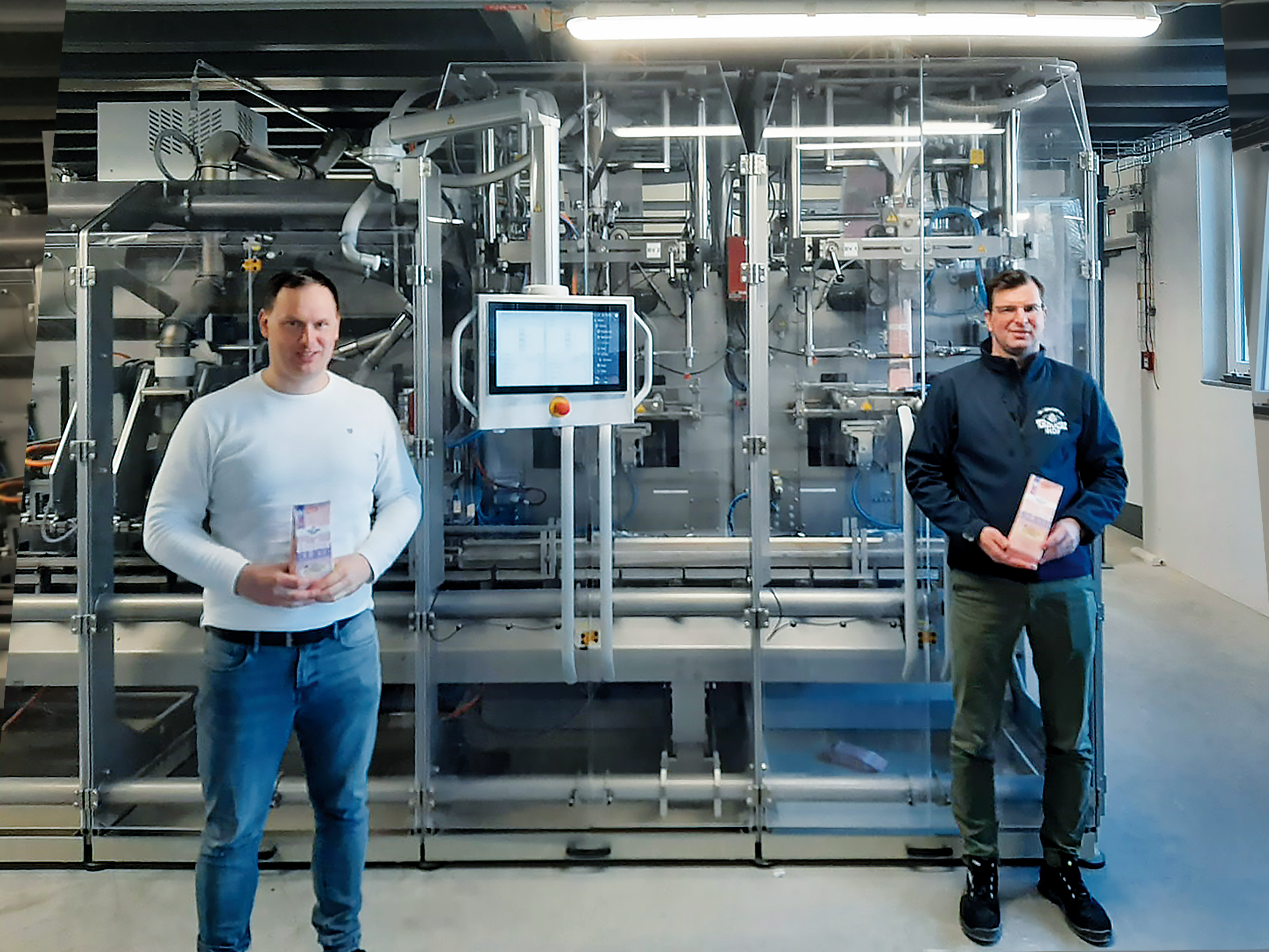 After several test runs with various paper qualities and surface weights, Sappi Guard Nature1-MS in a 95g/m² grammage was determined to be an ideal substrate for Bauckhof products. The paper-based packaging solution exhibits an ideal blend of 'shapeability' and strength in forming the paper pouches from the flat web, in the folding and wrapping process, all the way through to the final compact, block-bottom pouch. This type of packaging had not been previously used by Bauck. It features an integrated mineral oil barrier (MOSH/MOAH) and high heat-sealability.
"With Guard Nature 1-MS, the use of additional special coatings or laminations is entirely redundant"
"For Bauck, for whom resource-saving packaging is important, the barrier paper represents a highly sustainable alternative to multi-layer barrier films. Guard Nature 1-MS can be recycled in the paper waste stream. It's a significant advantage." Specially developed for applications in the food industry, the barrier paper guarantees 100% protection of Bauck's sensitive products when in direct contact with dry foods such as cereals, rice, pasta or flour.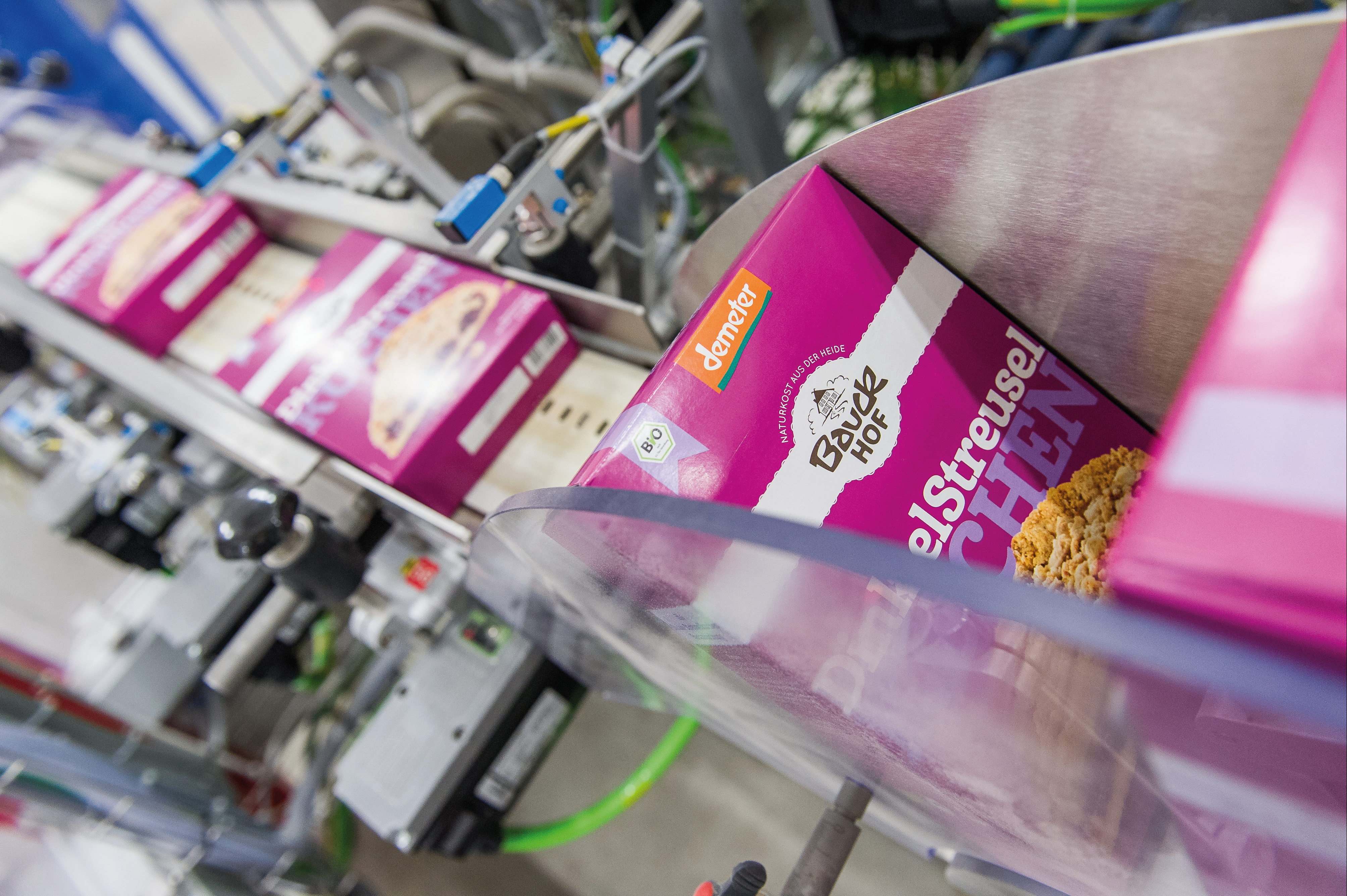 Sustainable conversion pays off – for both people and nature
The switch to paper-based solutions has resulted in significant benefits for Bauck: "End-users are very pleased with the paper packaging and doing without plastic is being extremely well received," notes Hannes Öhler, Head of Marketing & Communication at Bauck GmbH. "Since the introduction of the new packaging, we have succeeded in reducing the share of plastic packaging used for branded products by close to 80%. For us, this represents a key step towards using resources as sparingly as possible and living up to our corporate values."
Bauck is thoroughly impressed with the collaboration with its partners Sappi and ROVEMA. Within only one year, the company had converted and perfectly adapted its production processes. Building on the success of the new packaging for oat flakes, further products such as spelt flakes, 3-, 4- or 6-grain flakes will also soon be converted to the paper-based packaging.
Visit us at FachPack 2021!
Sappi: Hall 7A, Stand 426. Rovema: Hall 4, Stand 261.
About Sappi Guard Nature 1-MS
Guard Nature 1-MS is one of the most advanced barrier papers from Sappi. The uncoated paper ensures heat-sealability and features an integrated mineral oil barrier (MOSH/MOAH) on the reverse side. It is ideally suited to the food industry, for instance for inner bags used for dry foodstuffs (for instance: rice, pasta, powders and cereals). Guard Nature 1-MS – as a mono-material – is a sustainable alternative to multi-layer laminates and can easily be recycled in the paper waste stream. The product is available in grammages ranging from 80g/m² to 95, 110 and 125g/m², and it delivers excellent printing results and opening properties.
About Bauck
Bauck GmbH is a grain and cereal processing company based in Germany's Lower Saxony region. The family-run company was founded in 1969 and produces flours, flakes, mueslis and baking mixes – in Demeter and organic quality. At its three locations, 19,700 tons of organic and Demeter grains are processed annually and packaged for the trade in 30 countries worldwide. In the 2020 financial year, the company generated revenue of 127 million euros. Bauck GmbH is one of the pioneers among natural food manufacturers and in the production of gluten-free products. It produces and markets the Bauckhof brand.
About ROVEMA
With a proven commitment and experience acquired over more than 60 years, ROVEMA GmbH develops and builds packaging machines and systems to meet the challenging and complex demands of modern recycling management. ROVEMA thinks and acts holistically – taking into consideration the environment, the market, the product and the packaging in all its projects right from the very beginning. This enables the development of efficient, future-proof packaging machines with high availability. Providing sustainable solutions that ideally suit the characteristics of the product to be packaged and its requirements in terms of logistics, packaging material, shelf life and energy efficiency is a top priority for ROVEMA. And the concept is very successful – ROVEMA has delivered over 30,000 machines and systems worldwide and employs a staff of more than 600. In 2020, ROVEMA generated sales of some 100 million euros.
[1] Demeter, established over 80 years ago, is the oldest organic farming association with more than 3,200 farms and some 100,000 hectares of land worldwide. As a highly respected international organic standard, Demeter is represented on all continents.