Brilliant image quality with high-speed printing on corrugated board in a single run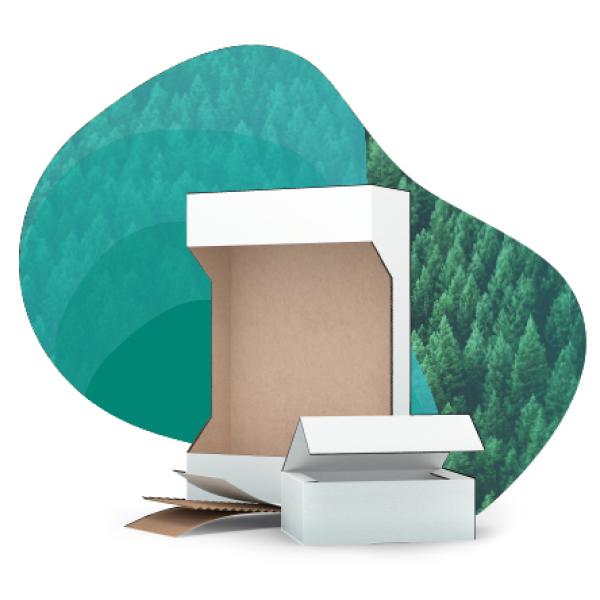 Maximizing attention at POS is exactly what corrugated board displays are all about. UDS, a Polish company that produces display advertising, is collaborating with Sappi, the leading manufacturer of packaging and specialty papers, to switch its production to the very successful Fusion Topliner. The virgin fibre liner for corrugated board applications delivers brilliant print results, producing a clean and vivid display of graphic elements and colours. It also excels with fast ink drying and ideal ink adhesion, as well as impressive and cost-effective processing. Displays produced with the virgin fibre liner are real eye-catchers – and UDS customers can no longer imagine a world without the Fusion Topliner.
"POS is our passion" is the slogan used by UDS, a Polish manufacturer of universal display solutions. The company was founded in 1986 and took its first steps in the printing sector. Today, UDS is established in the field of displays and packaging and sets standards in terms of quality, productivity and innovation. Numerous national and international awards for the best POS solutions – such as POS Stars, POPAI Awards or Forbes Diamond Awards – bear witness to the company's expertise. In addition to standard corrugated board products for POS – such as pallet, counter and floor displays – UDS also produces custom-made displays. The company's customers benefit from a comprehensive service portfolio ranging from design and printing to lamination, die-cutting, assembly, storage and distribution. All with UDS attending to every detail. Customers are mainly manufacturers and brand owners of food products, cosmetics and industrial non-food products. These include small, medium-sized companies and well-known global players such as Maspex – one of the largest food manufacturers in Central and Eastern Europe. Customers' expectations in terms of quality, speed of implementation and price are high when it comes to achieving a real competitive advantage at POS.
UDS focuses on modern, innovative display solutions to provide its customers with the best possible support. With this in mind, the display specialists were very enthusiastic about testing Sappi's white Fusion Topliner, which not only stands out visually but also in terms of processing.
Excellent printed images and superb processing
Fusion Topliner had a tough nut to crack with the test, says Jakub Markowski, Sales Specialist and Business Development Manager at UDS:
"Not only do we print in offset, but we are also one of very few companies to use the highly efficient EFI Nozomi C18000 single-pass UV LED inkjet printer for corrugated board in digital printing. It prints directly onto the corrugated board at high speed and in a single run. This means that everything needs to line up 100 per cent to achieve the targeted high image quality and speed. We immediately noticed that, in contrast to other papers, the Fusion Topliner delivered brilliant print results in digital printing. For instance, graphic elements and colours were rendered much more clearly and vividly than with other corrugated liner grades."
Sappi's Fusion Topliner, which was used in grammages of 160 and 135 g/m² in the test instead of the commonly used GD liner in 210 g/m² and 180 g/m² – this corresponds to a weight reduction of 25 per cent with unvaried parameters – also excelled with its many other properties. Fast ink drying and ideal ink adhesion meant that the EFI Nozomi C18000 could be operated at high speed, enabling it to process the corrugated board effectively and cost-efficiently while producing high-impact displays.
Impressive cost savings and environmental benefits
Due to the virgin fibre liner's premium look and bright white appearance, UDS had a lot of convincing to do – especially with its Polish customers.
"Whereas German customers value a premium look, our Polish customers are much more focused on the ecological properties of the product," says Jakub Markowski. "Of course, they recognise that high-end products such as cosmetics are much easier to sell at POS with the help of the bright white Fusion Topliner. But they tend to shy away from a presumably higher price because of the product's exceptionally high-end appearance."
These were concerns that turned out, on closer examination, to be unfounded. Compared with conventional recycling liners, Sappi's Fusion Topliner not only achieves a wow effect, it also offers ecological advantages and opportunities for real cost savings.
"Thanks to Fusion Topliner's back side coating and low glue absorption, much less glue is needed in the production of the corrugated board," explains Marcel Jelitto, Sales Manager Packaging & Speciality Papers at Sappi. "This reduces the use of glue by up to 75% – so both resources and money can be saved early in the process. Nonetheless, the Fusion Topliner boasts absolute stability and outstanding mechanical properties. For example, no waves or cracks arise at the folding points."
Fusion Topliner is also very economical when it comes to printing. At UDS, thanks to a reduction in ink consumption of up to 5g per m², it was possible to save material and minimise both resources and costs.
The virgin fibre liner delivers other advantages as well. Since excellent printing and processing results are achieved with low grammages, the liner saves on materials thanks to reduced weight while opening up more space on the pallet. This means a reduction of up to 1,500 tonnes of material per year at UDS, as well as transport savings and, ultimately, CO2 emissions. And, last but not least, the Fusion Topliner is FSC- and PEFC-certified – a further benefit in the Polish market.
Successful market positioning
Since Sappi and UDS started their cooperation in 2021, Fusion Topliner, which has already been successful in Poland for many years, has been a veritable triumph. Many customers have embraced the bright white virgin fibre liner and are capitalising on compelling, high-impact communication at POS.
UDS customer Maspex, for example, has decided to produce most of the promotional displays for its Lubella brand pasta and cereal products using Sappi's virgin fibre liner.
"Fusion Topliner is perfect to achieve stronger shelf impact and brand differentiation," says Wojciech Dendys, Customer Business Development Manager at Maspex. "We are convinced that it could well become the new standard in the premium segment in the Polish market. This is not only substantiated by the topliner's optical and mechanical qualities, but also its ecological advantages and quick and easy availability."
Improved availability
Fusion Topliner can be delivered quickly within Europe thanks to the central location of Sappi's German production site in Ehingen. Short transport distances also save energy while benefitting the environment. Due to increased demand, Sappi recently announced that it will be expanding production from its mill in Ehingen to its location in Gratkorn, Austria. Capacities are currently being expanded there and Fusion Topliner will be produced alongside existing graphic papers. This will enable anticipated growth to be met not only for current and potential customers in Poland, but throughout Europe.
About Sappi's Fusion Topliner
Sappi's Fusion Topliner is the premium solution for displays, consumer packaging, shelf-ready packaging and trays. With its homogeneous surface and exceptionally high whiteness, the virgin fibre liner ideally meets the requirements for strong brand impact at POS. Compared to common GD liners, Fusion Topliner stands out with its low glue absorption and excellent print results. Fusion Topliner's unique formula combines strength with flexibility – ensuring perfect folds even in complex applications. The virgin fibre liner is both FSC™ (FSC™ C015022) and PEFC (PEFC/07-32-76) certified, and available in grammages of 90, 100, 115, 135, 160 and 180 g/m².
About UDS
UDS sp. z o.o. is a European manufacturer of POS and packaging solutions with its headquarters in Warsaw and a production site in Nowy Kawęczyn, Poland. The family-run company was founded in 1986 and with its team of 350 employees today produces a broad portfolio of display solutions for international customers in the FMCG and cosmetics industries. At its production site in Nowy Kawęczyn, UDS handles design, printing, lamination, die-cutting, assembly, warehousing and distribution.