More choice, better security of supply
Due to growing demand, Sappi has expanded both production and range for its non-wet strength wet-glue label paper Parade Label Pro. A further customer benefit comes with increased security of supply.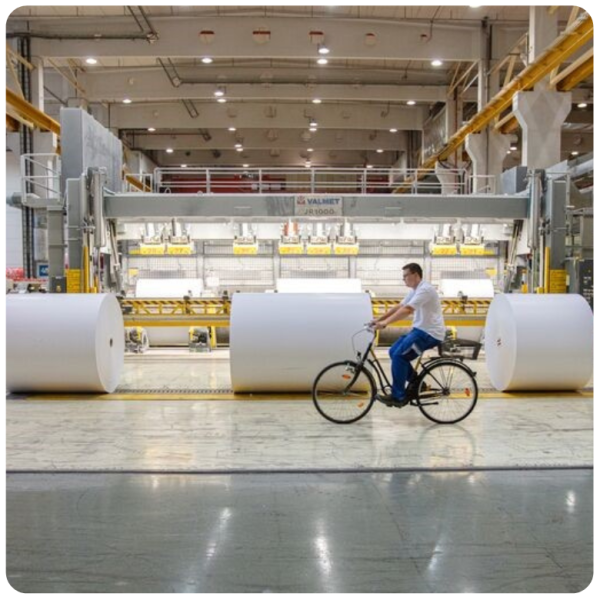 The global market for label printing has been growing steadily in recent years. 'The Future of Label Printing to 2024' estimates that the market will continue to expand at an average annual rate of 4.0% in value and 5.5% in volume.
This growth has prompted the need for an increased supply of high-quality label papers. As a result, and to offer our customers greater choice and security of supply, we have expanded our range of label paper products and increased production capacity – with even bigger plans in place for the near future.
More choice with Parade Label Pro label paper
One example is Sappi's Parade Label Pro, a one side double-coated gloss label paper launched in 2021. The non-wet strength wet-glue label paper can be used in a wide variety of applications, such as labels for bottles, tins and jars, as well as for flexible packaging applications such as food, snack and confectionery wrappers.
Such has been the success of the launch, that we're now expanding the range and increasing production capacity.
Parade Label Pro, produced at Gratkorn Mill in Austria, already comes in 80 and 90 g/m² grammages in reel and sheet formats. Now, with an expansion of production to our Alfeld Mill in Germany, we will also be offering 100, 110 and 120 g/m² grammages, ensuring a wider choice and greater range of applications.
As part of this change, our wider label paper family has been reviewed and rationalised. Parade Label A and Parade Label G paper grades – originally designed for offset and gravure printing – have been removed from the range and replaced by Parade Label Pro. Tests both at Sappi and with external partners have clearly demonstrated that Parade Label Pro can deliver outstanding results for Label A and G applications.
Increased security of supply just the beginning
The expansion of production to a second mill at Alfeld provides better security of supply for our customers today. But we're also looking to tomorrow, with plans in place to increase capacity and range even further.
As of the end of 2023, production capacities for label papers will be extended at Gratkorn Mill. A double-digit million-Euro investment in technological innovations will enable the mill to produce high quality wet-strength wet-glue label paper in addition to non-wet strength wet-glue label paper, adding to our production capacity for this type of label paper.
Extensive technical innovations in the paper machine's water and material cycles are planned, as well as investment in a new embossing calendar. This is key to producing the kind of wet-strength wet-glue label paper used in the beverage industry – on beer bottles, for example.
Delivery speed and reliability
This work is designed to ensure 100% continuous availability and fast delivery of our label papers to customers. As one of the largest and most modern paper mills in Europe, Gratkorn Mill's production capacity will ensure the supply reliability demanded by the growing market. More effective, shorter production cycles will also ensure fast delivery and even more flexibility in responding to the needs and preferences of our customers.