Sustainable packaging - simply cleaner
Meet the sustainable, paper-based shower soap alternative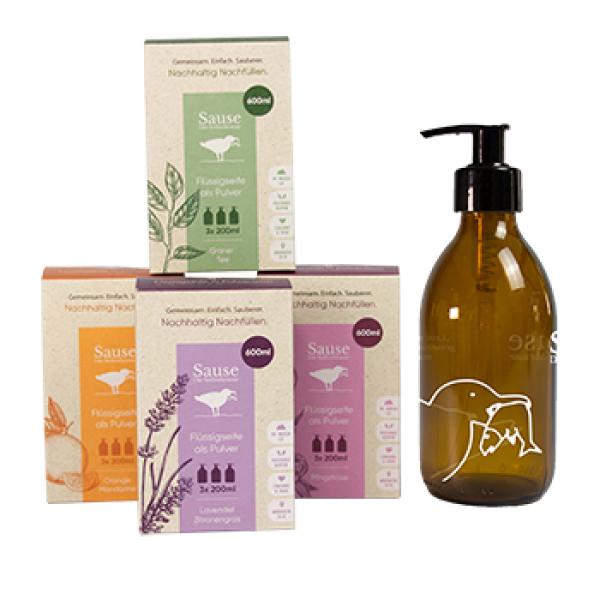 A sustainable alternative to conventional liquid soap, one that dispenses entirely with plastic, proved a hit with experts and audience alike on Germany's VOX "Die Höhle der Löwen" (The Lions' Den) business reality show. Munich-based start-up Sause successfully pitched its concept to three different investors. Sause's highly innovative shower soap powder, one that majors on sustainability in both its formulation and its packaging, impressed investor Judith Williams and a television audience of millions. 
To bring its product to life, the start-up worked closely with Sappi, the world's leading manufacturer of speciality papers, to package the shower soap powder into sachets. Thanks to its Guard barrier paper range, Sappi can offer a paper-based solution with a focus on maximum product protection. For this innovative product, the packaging was created in collaboration with the long-established Arwed Löseke paper processing company.
Liquid shower soap to mix at home? In early 2021, Moritz Simsch and Sebastian Jung brought their idea to the VOX "Die Höhle der Löwen" business reality show.
Within just a few months, the Sause start-up had succeeded in significantly increasing its production capacity, as well as launching new product developments. For consumers, using the environmentally friendly shower soap couldn't be any easier – you simply add water to the powder and shake. Compared to existing liquid soap using plastic dispensers, the soap powder saves an impressive 96% in weight – amounting to major CO2 emissions savings during transport. 
Sustainable raw materials and reduced CO2 emissions
To create a resource-saving alternative to conventional disposable packaging, the start-up teamed up with Arwed Löseke. "Their long-standing expertise in paper processing and printing, combined with a wide-ranging know-how in sustainable packaging solutions, has been decisive to our progress," explains Moritz Simsch, Sause Co-Founder and CEO. "Consumers can be assured of outstanding product quality and exceptional packaging sustainability."
A detailed review of specific requirements, as well as a series of test runs with various paper qualities and base weights, had to be undertaken before Arwed Löseke were ready to make their recommendation on the most suitable material for packaging the soap powder. This would have to be a paper-based packaging solution featuring optimum heat-sealing properties alongside high-performance moisture, grease and aroma barrier functions. 
Innovation leader Sappi supplies the most extensive portfolio of paper-based packaging solutions on the market – and the choice was made to utilise innovative functional papers from the Sappi Guard product family specially developed to meet the needs of the flexible packaging market. Sappi AvantGuard Nature S was selected as the ideal substrate. The barrier paper, in a grammage of 75 g/m², not only boasts an ideal combination of stability and formability, but it also stands out with its high sealability.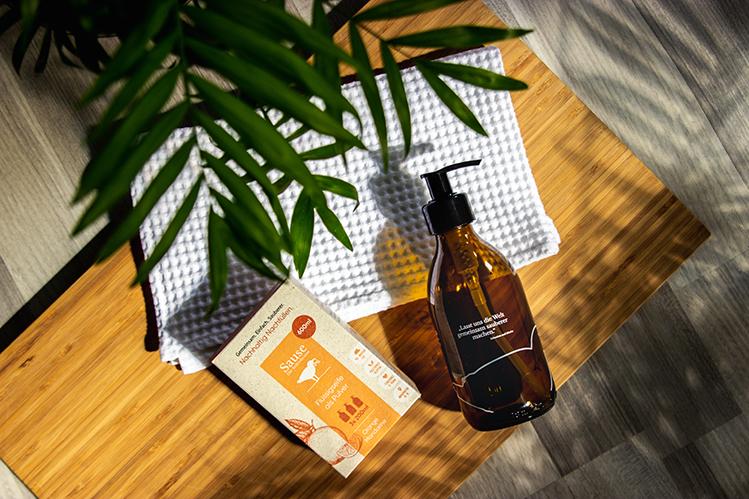 "Over 80% of the materials used in this high-barrier paper come from renewable sources. The paper-based packaging solution entirely eliminates the need for additional special coatings or laminations, and the materials used can be easily recycled in the wastepaper stream." 
High-level product protection and excellent workmanship
Four unique designs were created to reflect the soap powder's various fragrances. "Initially, we had some reservations about whether the printed images could be implemented on the Sappi AvantGuard paper in flexographic printing," says Thomas Fernkorn, sales manager for flexible packaging solutions at Arwed Löseke. "But the results demonstrate the paper's outstanding printability – and, of course, our focus on sustainability."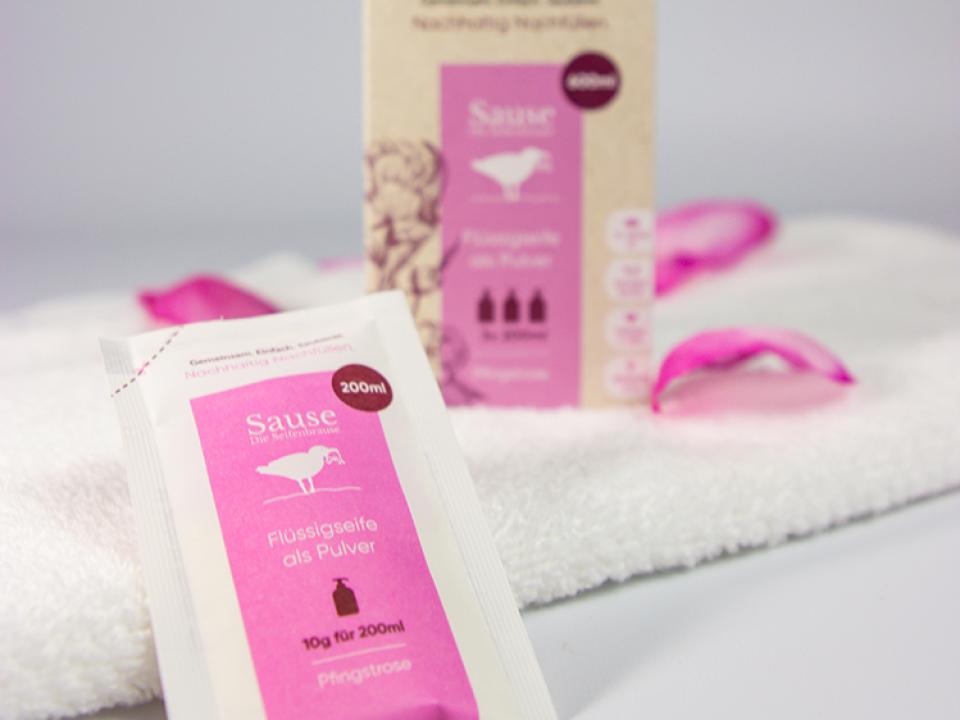 The 6.5cm x 10cm sachets, made with Sappi AvantGuard Nature S, ensure 100% protection from moisture, loss of fragrance and other environmental factors. At the same time, they are easy to handle and can be torn open quickly. Launched in October 2021, the shower soap powder is available through Sause's web shop and online at Douglas, Rossmann, HSE, Flink and Amazon.
About Sause GmbH
Sause 'Seifenbrause' shower soap powder is a passion project. Moritz Simsch and Sebastian Jung launched their company in 2019. The two founders' mission is straightforward: "Together, simple, cleaner". Their sustainable alternative to conventional liquid soap dispenses with unnecessary water weight during transport and with plastic as packaging material. The company is based in Munich and its products are manufactured in Lambrecht, a town in Germany's Palatinate Forest region.
About Sappi AvantGuard Nature S
AvantGuard Nature S is one of Sappi's most state-of-the-art barrier papers. The uncoated paper features heat seal-ability as well as an integrated oxygen, water vapour, aroma, grease and mineral oil barrier (MOSH/MOAH) on its reverse side. It is well suited for the food industry, eg for flow-wrap packaging in the confectionery sector. As a mono-material, AvantGuard Nature S represents a sustainable alternative to multi-layer laminates and can be recycled in the wastepaper stream. The product is available in a 75g/m² grammage and delivers excellent print results and tear-open properties.