A brilliant solution without any 'heavy metal'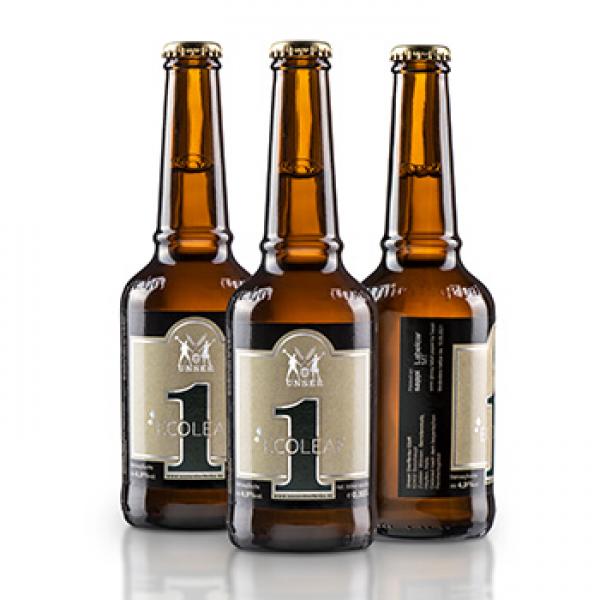 High-quality beer bottle labels with a revolutionary metallic effect
To produce a new beer bottle label, ACTEGA Metal Print GmbH required a special substrate with an unusual visual effect. It had to be able to be processed effectively and also make an excellent feature of itself with the new EcoLeaf metallization. For the solution, leading innovator Sappi – a long-standing partner of ACTEGA – is presenting the silky matt label paper Labelcar MT. It is ideal for bottle labels and is also optimal for metallization purposes: an innovation-driven partnership between equals.
A big wow effect for a small local brewery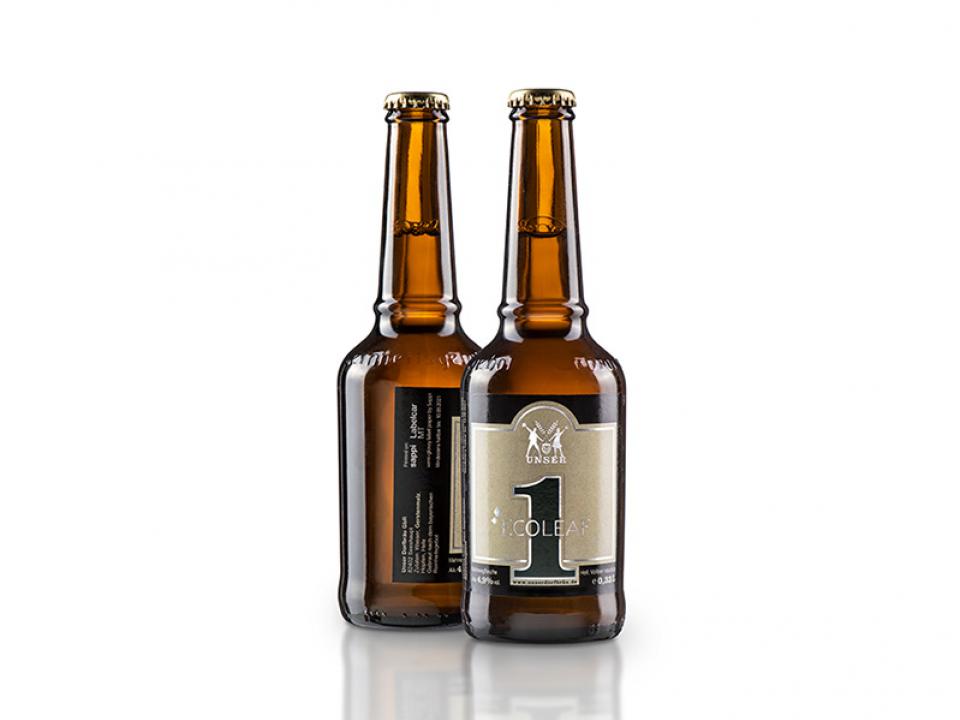 ACTEGA Metal Print GmbH (AMP) is part of the ACTEGA division of the ALTANA Group, which develops and produces adhesives and sealing compounds as well as coatings and printing inks. AMP was founded in 2017 with an aim of revolutionizing the graphic design industry with a new, sustainable technology for metallization: the 'EcoLeaf' metallization. It is planned to reduce the material, waste, cost and time required for decorative metallic effects, compared to the predominantly foil-based methods that are still common today.
As part of ACTEGA Metal Print's ongoing qualification process for substrates suitable for EcoLeaf, AMP planned to apply the new technology as a finish for beer bottle labels. 'Unser Dorfbräu', a local brewery from the Bavarian town of Seeshaupt am Starnberger See, revealed itself to be a partner with interest in the idea. Given the company's curiosity for constantly new developments, it was happy to allow its existing beer label to be used for the 'EcoLeaf' metallization and adapted to the new process.
Klaus Musselmann, co-owner and head of sales and marketing at Unser Dorfbräu, remembers, 'We were thrilled by the idea! While we had already considered adding metallic effects to our beer bottle labels, we rejected the idea because of the high cost of the hot foil production required.' The brewery took great interest in label production that could now be integrated in a way that was cost-effective and also sustainable. The fact that its beers – handmade and 'brewed with love' – could now show off an even more stand-out exterior to reflect their premium contents was a winner. The result was an elegant label with an exciting look and feel that leaves the consumer 'thirsty' for more, bolstering the brewers' passion for beer.
Brilliant results thanks to a perfect surface
There was an exceptional challenge for ACTEGA, which was to change the design of the existing beer bottle label just enough so that metallization could be carried out on it. At the same time, the basic image of the label had to be maintained, so as not to impact the recognition factor of the small local brewery's products. The solution was to select the perfect label material which approximated that matched the function of the substrate used in the original, and which provided whilst providing optimum results with the 'EcoLeaf' technology. ACTEGA was assisted by its long-standing partner Sappi in the search for the perfect material. Together, ACTEGA and Sappi tested and qualified various papers with the metallization in order to find a sustainable carrier material, made of recyclable raw materials, to match the sustainable technology.
Thanks to Sappi's advice, a decision was ultimately made in favour of the Labelcar MT label paper, coated on one side with 70g/m2 grammage, for the beer bottle label. Thanks to its smooth top and rough reverse side, it is the perfect choice for bottle labels. Its high-quality visual and tactile properties ensure an effective shelf impact and brand differentiation. It also has high dimensional stability and wet strength, which are deciding factors when applying labels through wet-glue lamination. As a result, the elegant metallic look of the label retains its flawless radiance even after processing.
Kathrin Böhmüller, Sales Support Manager Consumer Goods and SelfAdhesives, knew about the special challenge for Sappi in this project, commenting, 'Surfaces on labels must be perfect: no scratch can be visible during the subsequent metallization. The coating of the paper in particular is decisive for printing and the processing afterwards.'
However, she never doubted that Sappi would find the right paper for the job thanks to its many years of experience and expertise in this field, 'We were one of the first companies in the world to offer coatings of this kind and that means we know a thing or two when it comes to surfaces.'
Sappi was therefore a clear favourite to be brought on board as a partner for the new technology, with its coating knowledge and very easily processed papers. The aim was to demonstrate an alternative to metallization through hot-foil stamping and cold-foil transfer, that are currently still common.  
The 'EcoLeaf' technology – for sustainable metallization
In order to create a more sustainable alternative for decorative metallic effects for objects such as labels and folding box paperboards, ALTANA in 2017 purchased technology developed by Israeli digital printing machine manufacturer Landa, that was presented at Drupa 2016 and began introducing it to German industry with ACTEGA Metal Print GmbH, a company founded especially for this purpose.
The 'EcoLeaf' technology consists of a trigger image and a metallization unit that transfers a thin layer of metallic pigments first to a dispenser roller and from there to the trigger image. Only the exact amount of metal pigment required for the motif is used. In addition, the technology can be integrated into conventional printers, digital printers or finishing systems. Using the different printing processes for the trigger Image, which can include flexography, screen-printing and inkjet, there are also different metallic effects that are created.
Combined with the perfect substrate that Sappi can supply, the technology opens up new possibilities for finishing print products decoratively. It is particularly suitable for labels, folding boxes and flexible packaging, e.g. for beverages, confectionery and cosmetics. The effect makes packaging appear high quality, luxurious and desirable. Dario Urbinati, Chief Sales and Marketing Officer at ACTEGA Metal Print GmbH, is convinced of the technology's potential, 'With "EcoLeaf", we are providing the market with a revolutionary and sustainable metallization technology. It saves money and also offers completely new possibilities for finishing printed products.'  
Great market opportunities – especially for small companies
Unser Dorfbräu is more than satisfied with the high-quality labels for its core product. Klaus Musselmann, Sales and Marketing at Unser Dorfbräu, can definitely imagine a long-term partnership, 'We would like to use the technology in combination with the label material for our beer labels as soon as it is available at label printers. Overall, we believe that there is great demand for metallized labels for craft beers. It is very important to us that they can now be produced cost-effectively and, above all, sustainably, even in small quantities.'
This opportunity is bound to be extended to other companies that prioritise economical production with innovative, high-quality and sustainable solutions. From December 2020, the results will be sent out as a showcase to selected industry partners and print shops, who will then be able to see for themselves the quality and efficiency in this interplay of innovative technology and an ideal substrate.
About Labelcar MT from Sappi
The Labelcar MT label paper from Sappi with a coating on one side has a smooth top and rough reverse side. It is the perfect choice for bottle labels and oil- and grease-resistant labels. The label paper also satisfies every desire when it comes to wet strength and alkali resistance. It has high dimensional stability and maintains a perfect shape even with various demanding label applications, especially in the beer industry. Labelcar MT offers excellent printing and metallization results and is available in grammages of 55g/m², 60g/m², 65g/m², 68g/m² and 70g/m².
About ACTEGA Metal Print GmbH
ACTEGA Metal Print GmbH, part of the ALTANA Group, was established in February 2017 with an aim of revolutionizing the graphic design industry with sustainable metallization technology. This technology significantly reduces the material, waste, cost and time required for decorative metallic effects compared to typical, predominantly foil-based processes. For this purpose, ACTEGA acquired the Nano-Metallography™ technology, first presented at drupa 2016 by Benny Landa, founder of the Landa Group. This groundbreaking technology, now called 'EcoLeaf' at ACTEGA, is scheduled for commercial release in summer 2021.
About Unser Dorfbräu
Unser Dorfbräu, a microbrewery in Seeshaupt am Starnberger See in Bavaria, produces craft beers for its local region. For the four brewery owners and company founders, their hand-brewed beer is not just a beverage made of water and hops, but rather embodies an attitude to life. The small company is passionate about brewing and moreover, also about the careful packaging of its final product.