Sappi to take part in The Greener Manufacturing Show and the Plastic Waste Free World Conference in Cologne on 9 and 10 November 2022
Innovations inspired by nature from Sappi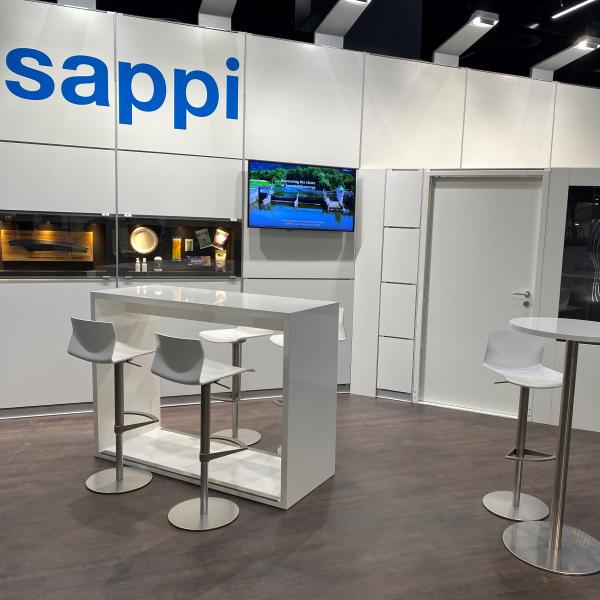 Following its successful participation in 2021, Sappi Europe will be taking part in the 2022 edition of The Greener Manufacturing Show and the Plastic Waste Free World Conference in Cologne on 9 and 10 November. The leading global provider of sustainable woodfibre products and solutions will be showcasing its sustainable packaging as well as woodfibre products such as Sappi Symbio, a cellulose-based fibre solution that reduces the carbon footprint of polymer materials, and Sappi Valida, a natural cellulose, used as a sustainable raw material in personal care, coatings and many other applications.
Sustainable and recyclable packaging solutions from renewable resources from the market leader Sappi
Sappi Symbio: a sustainable, responsible alternative to non-renewables
Sappi Valida: a bio-based fibrillated cellulose solution for a wide range of applications
Sappi, a leading global provider of everyday materials made from renewable woodfibre-based resources, will be attending The Greener Manufacturing Show and the Plastic Waste Free World Conference in Cologne on 9 and 10 November 2022. The show and conference will bring together more than 150 exhibitors and over 3,000 international brand owners and manufacturers from a wide range of industries who are intent on enhancing their sustainability credentials and reducing the impact of their operations on the environment. Sappi is taking part in this year's Greener Manufacturing Show following our success at the 2021 show. The objective is to demonstrate how we are taking sustainability to the next level and to showcase our latest innovations 'inspired by nature' in Cologne.
Innovation leader in sustainable packaging solutions
Sappi is introducing an impressive variety of paper-based, sustainable solutions to replace fossil-fuel-based, non-renewable alternatives. These range from functional papers with integrated barrier technology to paperboard with enhanced optics, as well as premium specialty papers for the food and label industries.
Sappi is recognised as an innovation and market leader in functional papers with integrated barrier functionality and heat-sealable properties, and the company is continuously expanding its portfolio of barrier and high-barrier papers.
At the Greener Manufacturing Show, Sappi will showcase several current examples of food and non-food applications using these barrier papers, which clearly reflect the company's commitment to replacing non-recyclable aluminium and plastic multi-layer laminates with entirely sustainable alternatives that meet all market requirements in terms of performance and recycling.
Sappi also has an extensive and highly innovative portfolio of premium paperboards with a multitude of surface options for the most diverse packaging applications. With its Algro Design paperboard family of products, Sappi will clearly demonstrate that sustainable, innovative solutions can also deliver high-impact appeal thanks to their distinctive surface properties, colour brilliance, and shaping and folding properties.
Sappi Symbio: a cellulose-based fibre solution for wide-ranging applications
To offer customers in more than 150 countries worldwide sustainable, responsible alternatives to non-renewables, Sappi's Biotech division has added the innovative Symbio natural composite material to its portfolio. Symbio's premium cellulose fibres are sourced from wood and manufactured in an environmentally responsible production process. The lightweight cellulose-based fibre solution contributes to improving the life cycle analyses of products and processes by considerably reducing their CO2 footprint. Compared with conventional materials, polymers enhanced with Sappi Symbio ensure increased material stiffness and strength. Moreover, the natural odourless fibre-based solution offers benefits such as lightness of colour and high brightness and ensures optically invisible fibres in the end application.
Symbio is an ideal solution for a wide spectrum of applications ranging from furniture and interior lifestyle products to consumer electronics, kitchenware and even automotive components. Being reusable and entirely recyclable, Symbio is yet another Sappi milestone developed in line with the company's long-term vision to provide bio-based materials fully derived from wood that offer attractive alternatives to fossil-based plastics and composites.
Sappi Valida for cosmetics to construction materials
Sappi Valida is another product which Sappi's Biotech division developed to meet quickly changing market needs.
Produced from sustainable cellulose fibres, this fibrillated cellulose solution was conceived to support manufacturers in meeting the need to replace conventional materials, used to ensure reinforcement and stabilisation, with bio-based ingredients. The sustainable material performs as an opacifier, flow modifier, hydration agent and stabiliser, and is ideal for a wide range of applications such as cosmetics and personal care products, coatings, agricultural and construction materials.
Meet us!
Sappi is looking forward to an opportunity to meet with customers and business partners at the Greener Manufacturing Show at Stand 6022 and to offer insight and solutions to reduce their use of plastics and fossil materials with sustainable woodfibre-based solutions.