Sappi teams up with Domino Printing Sciences
Best results for laser marking and coding of barrier papers.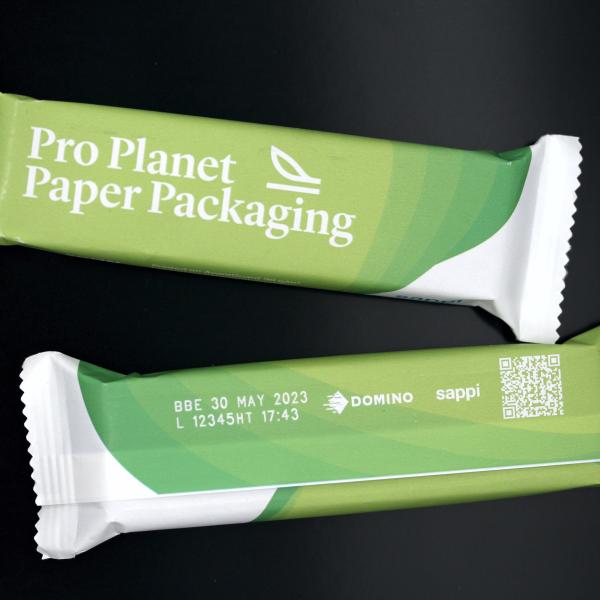 Packaging paper manufacturer Sappi has joined forces with Domino Printing Science, a leading printing specialist, to heighten market opportunities for its barrier papers used for the environmentally friendly packaging of fresh and processed food. Together, the partners have developed a highly efficient process for laser marking Sappi's barrier papers. In test series on six different barrier papers from Sappi, Domino's laser technology achieved impeccably clean marking and coding – without impairing the barrier effect, the print image or the packaging design.
Packaging made from renewable raw materials is very much in demand among many consumers. Sappi's customers around the world are well aware of this, as they stand to benefit from a sustainable, recyclable alternative to plastic composite materials for the production of food packaging. Through their collaboration, Sappi and Domino are paving the way for an even wider use of environmentally friendly, paper-based packaging in the food sector. The aim was to provide global food brands looking to use recyclable alternatives to plastic composite packaging with a retrofittable, high-quality solution for laser marking paper-based packaging with a barrier function.
"The market for sustainable product packaging continues to grow – as evidenced by the increasing demand for alternatives to hard-to-recycle plastics."
"We are very pleased to explore these new materials together with Sappi and to develop the right marking solution to meet individual customer requirements."
Marking requirements for barrier papers
As an alternative to plastic and composite packaging, Sappi offers a wide range of barrier papers with different barrier properties. The water-based coatings act as a reliable barrier against moisture, grease, oxygen, mineral oil and aromas. Typical applications include block-bottom pouches for dry foods such as sugar or pasta, flow-wrappers for snacks and chocolate bars, and pouches or lids for fresh and processed foods. "More and more brand manufacturers want to add 2D codes to their top-quality designed packaging," reports Mike Zywietz, Product Application Engineer Flexible Packaging at Sappi. One reason for this is the need for simplified traceability of individual product batches. Many manufacturers also want to use laser marking to meet customer expectations in terms of additional information, such as the regional origin of the packaged products.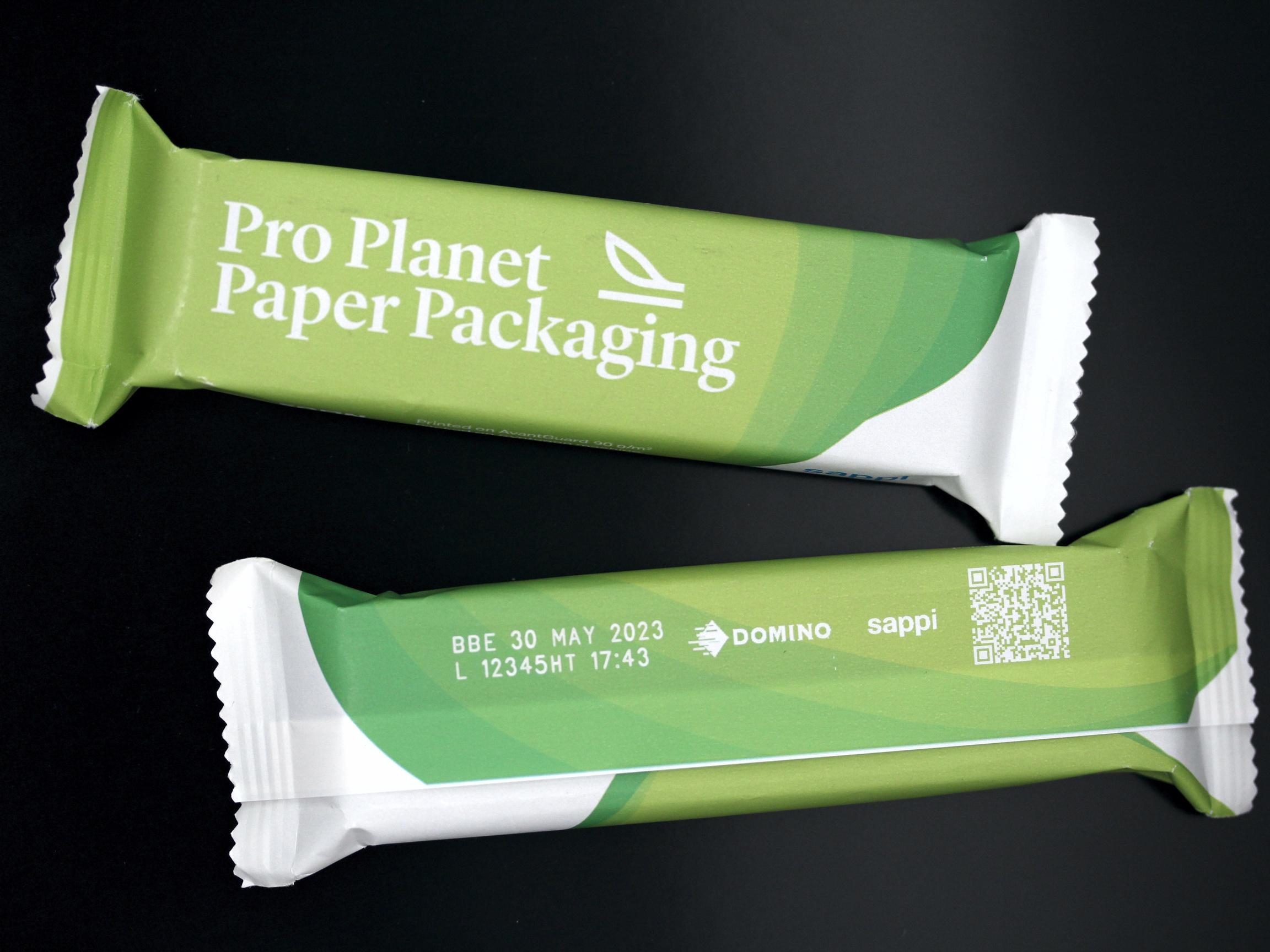 This type of information, especially the data required to trace individual batches, is not yet available in the original packaging design. In this case, the challenge is that it has to be added subsequently without changing the print image or compromising the quality of the barrier function.
Collaborative solution development
Once it was clear that Domino's CO2 lasers were best suited for paper-based packaging, the next step was to find the right type of laser with impeccable technical properties. Domino's experts carried out spectroscopic analyses with six different barrier papers from Sappi: The aim was to determine the wavelength that would guarantee optimal interaction between the laser beam and the substrate. As early as in the first series of tests, models from the D series emerged as possible candidates for a solution. From subsequent suitability tests, the Laser Domino D320i was found to be the best solution. Especially in terms of marking quality, the D320i outperformed all other models tested. Both with simple markings such as best-before date or batch codes and with scannable 2D codes, the Domino D320i delivered razor-sharp images – and importantly, it was proven via 3D imaging that the depth of the laser engraving does not cause any damage to the paper or the barrier substrate of the packaging.
These results were confirmed in Sappi's research and development laboratory: "We were very impressed with the full preservation of the barrier function despite the laser exposure. Add to that the superior marking quality and Domino's D2 lasers are the first choice for our customers," concludes Product Application Engineer Mike Zywietz.
"Our customers can now also apply 2D codes within milliseconds at a later date in a virtually cost-neutral manner – without any changes to the print image or packaging design, and without any loss of barrier function."
About Domino Printing Sciences
Since 1978, Domino Printing Sciences (Domino) has earned a global reputation as a developer and manufacturer of coding, marking and printing technologies with world-class customer services. The company offers a comprehensive portfolio of diverse end-to-end labelling solutions that meet specific requirements of various industries from food, beverage and pharmaceuticals to industrial manufacturing. Domino's core technologies include innovative inkjet, laser, print and application systems, as well as thermal transfer overprint systems specifically designed for applying variable data, barcodes and traceability codes to products and packaging.
Domino employs more than 3,000 people worldwide and distributes its products in over 120 countries through a global network of 25 subsidiary offices and more than 200 distributors. The company has production sites in Germany, Sweden, the UK, Switzerland, the USA, India and China. Since 2015, Domino has been an autonomous division of Brother Industries Limited. www.domino-printing.com