Sappi and ACTEGA – working together to create high-impact labels
Metallic effects and embossed haptics: printing-enhanced label papers were on show at Labelexpo Europe in Brussels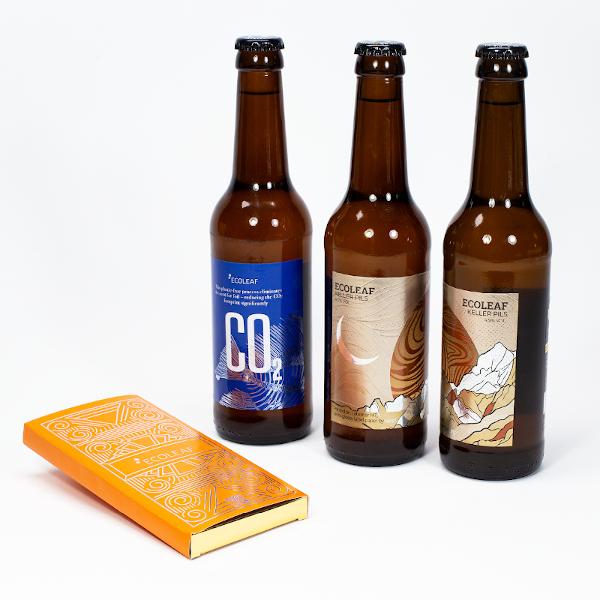 Sappi, a leading manufacturer of speciality papers, has collaborated with ACTEGA to print labels with a metallic effect and a distinctive tactile feel. Visually and haptically impressive beer bottle labels and wrappers for chocolate products were created with ACTEGA's innovative ECOLEAF technology. The exceptional results of the partnership were on display at the last Labelexpo Europe in Brussels (11 to 14 September 2023).
Innovative, print-based finishing technology
ACTEGA is part of the ALTANA Group. ACTEGA develops and produces specialty coatings, inks, adhesives, sealants and compounds for the print and packaging industry. In 2017, ACTEGA introduced an all-new finishing technology to the graphic arts industry: so-called ECOLEAF metallisation. As an alternative to conventional, predominantly foil-based processes for the production of metallic finishes, it is used to print metallic effects on narrow web labels and packaging.
The technology consists of a carrier or 'trigger' image and a metallisation unit that transfers a thin layer of metallic pigments first onto a dispensing roller and from there onto the trigger image. Only the exact amount of metal flakes required for the motif is used. The trigger image can be produced with flexo, rotary, flatbed screen or inkjet printing. Depending on the chosen printing method, tactile metallic effects, high-resolution finishes or a solid metallic print can be created.
ACTEGA had worked together with its long-standing partner Sappi as part of the qualification process for ECOLEAF-suitable substrates. In the search for the best possible result in the metallisation of beer bottle labels, the choice fell on the one-side coated Labelcar MT label paper. It didn't come as a surprise when ACTEGA once again sought Sappi's long-standing expertise for two new finishing projects with its ECOLEAF technology. In the run-up to Labelexpo Europe 2023, the two partners tested a variety of label papers for two very different applications.
For more information on the first joint metallisation project between Sappi and ACTEGA:
https://www.sappi-psp.com/insights/innovation/a-brilliant-solution-with…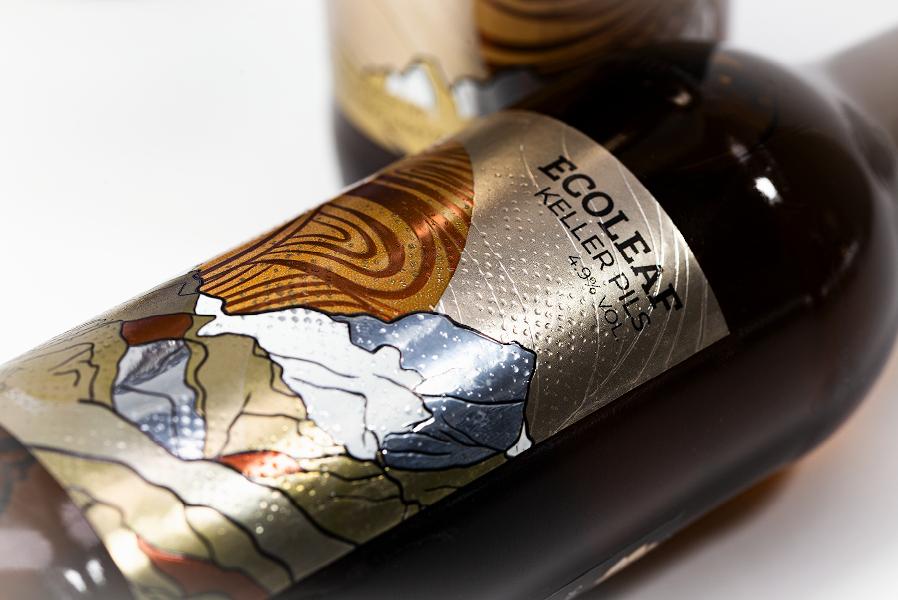 Beer bottle labels with printed metallic and tactile effects
In the current joint project, three different front labels for beer bottles were produced using Labelcar MT, a one-side single-coated wet-glue label paper (70 g/m²) that had been successfully tested in the qualification process. In addition to its impressive look & feel and compelling shelf appeal, it features high dimensional stability and wet strength – important factors when applying labels via wet-glue lamination. It also offers ink adhesion and exceptionally high print quality: ideal prerequisites to ensure the very best results.
To achieve gold and silver metallic effects on the three different beer bottle labels, Labelcar MT was processed using flexo digital printing at a speed of 75 m/min. Additional 15mµ-high tactile effects were incorporated and further enhanced by a colour overprint with UV varnish, also with a height of 15mµ. The labels were produced by Springfield Solutions in the UK (part of the All4Labels Group) – specialists in the creation of prototypes and sales samples. The finished labels were applied in collaboration with a Kraft-Keller-Pils producer.
Visitors to this year's Labelexpo Europe had the opportunity to view the impressive qualities of the labels at the Sappi stand where samples and bottles were showcased. Visitors were invited to experience the labels even more closely at the ACTEGA stand, where tastings of the Kraft-Keller-Pils were held.
Exclusive wrappers for chocolate products: both striking and durable
For Sappi and ACTEGA's second project, the single-sided, double-coated, glossy Parade Label Pro (110 g/m²) was used to produce high-quality banderoles for an exclusive chocolate edition from Rausch. Designed to achieve high shelf impact and brand differentiation, the paper is easy to process and boasts the best mechanical properties for reliable production and superb finishing.
Parade Label Pro was printed with silver pigments using ECOLEAF technology and provided with high-quality tactile highlights for finishing the entire wrapper. Production was carried out by screen printing on an ABG DigiCon Series 3 at a speed of 30 m/min, which produced the haptic elements with a height of 15mµ for the metallisation and a highly legible, metallised 2D QR code with 15mµ haptics.
Thanks to its uniform surface, consistently high quality and excellent printing and finishing options, Parade Label Pro achieved a result for the challenging motif that is as striking as it is abrasion-resistant and durable – without requiring an additional protective coating. This is best demonstrated by the exceptional functionality of the razor-sharp printed QR codes: While the printed QR code on the front leads to the ACTEGA website, the code on the back links the user directly with the Sappi website, where additional information on Parade Label Pro can be found.
Chocolate samples for testing the printed QR codes were offered both at the ACTEGA stand and at the Sappi stand.